Maruti Suzuki has unveiled its new wagonR alias 'The Blue-Eyed Boy'. The all new WagonR is coming with more fuel efficiency and powerful engine. The 998 cc K-series engine will deliver a high fuel efficiency of 18.9 km/l.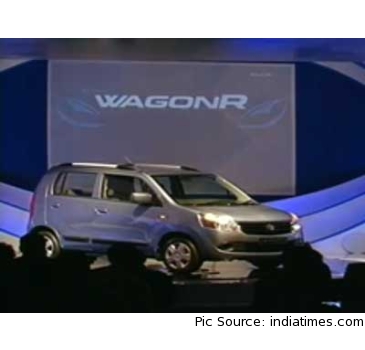 The engine of Wagon R is similar to that of Maruti A-Star. The smooth pick up is the key feature of this new car. Moreover, the latest version has guaranteed CNG system installed in it.The new Wagon R has completely revamped Interiors. Wagon R is a complete package with modern features, improved comfort. In terms of mileage, space, safety and style, it can challenge any modern luxury car.
WagonR is taller and more spacious than its predecessors. The new car has keys integrated with i-CATS. Besides that, it has 4-door central locking and anti-theft alarm system that ensure security m atter.The Wagon R is available in vibrant colors: golden, silver, pink, purple, etc. Three models of Wagon R will be launched — LX, LXi and VXi.
The car will be priced around 3.3 lakh to 4.5 lakh.
(Visited 112 times, 1 visits today)