Nokia C3 is a new kid in the Nokia stable, targeting the customers who are planning to upgrade to a smartphone from a basic phone.With a very low price the phone is an must buy  for anyone looking to have low cost QWERTY phone. Having proven to be top notch and high user friendliness in the QWERTY space, C3  is a useful addition to Nokia's QWERTY range.  Currently the phone is available for $128 in Amazon and Rs 5500 in India.
Nokia C3 is a smartphone with 2G network, Series 40 software platform and Firmware update over the air application. The phone weighs 114 g, dimensions 115.5 * 58.1 * 13.6 mm, 2.4 inches, TFT (Thin Film Transistor technology) display screen, 262,000 colors, resolution 320 * 240 pixels, landscape QVGA (Quarter Video Graphics Resolution – term used for computer display with 320 * 240) and QWERTY keyboard. It has 55 MB memory, 64 MB RAM, 128 MB ROM, micro SD memory card slot memory extendable upto 8 GB, hot swappable.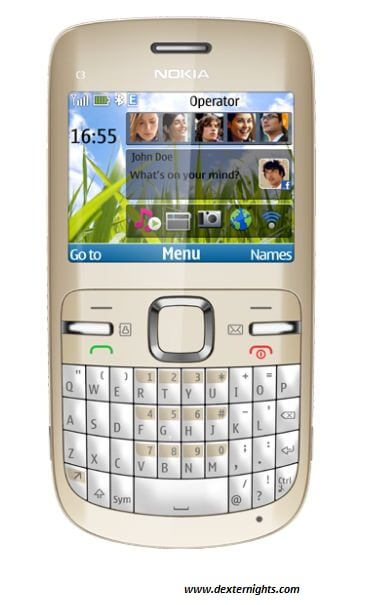 The battery is 1320 mAh Li-Ion standard battery with a standby power of 800 h, talk-time power of 7 h and music playback time of 30 h maximum with offline mode. It has video ringtones, other ringtones like MP3, WMA, MIDI, AAC, eAAC+. It has music player, 3.5 mm audio jack. The camera is of 2 MP, zoom upto 4x digital, can capture video in MPEG-4, QCIF max.

The other features of the phone are stereo FM radio, RDS (Radio Data System – communication protocol where small amount of digital information is embedded in conventional FM broadcasts)., voice commands, Games, GPRS, EDGE, IEEE 802.11 b/g Wi-Fi with maximum speed of 11 Mbps/ 54 Mbps, High-speed USB 2.0, Bluetooth v2.1, support for local synchronization, serves as data modem, TCP/IP support, Flight mode, Automatic switching between GSM bands, SMS, MMS, Email, IM, Push, . The phone comes in three colors such as golden white, pink and slate grey.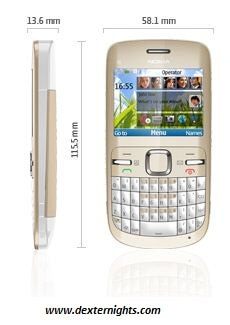 Nokia C3 Specifications and Comparison with Nokia E5, Nokia E72 and Nokia E63 :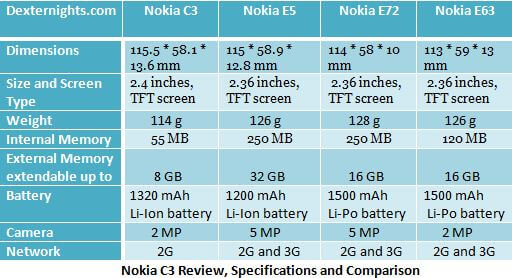 Dimensions : 115.5 * 58.1 * 13.6 mm, 2.4 inches, TFT (Thin Film Transistor technology) display screen, 262,000 colors, resolution 320 * 240 pixels, landscape QVGA
comparison :
Nokia E5 – dimensions are 115 * 58.9 * 12.8 mm, 2.36 inches, TFT screen, 256,000 colors, resolution 320 * 420 pixels
Nokia E72 – dimensions are 114 * 58 * 10 mm, 2.36 inches, TFT screen, 16 M colors, 320 * 240 pixels resolution
Nokia E63 – dimensions are 113 * 59 * 13 mm, 2.36 inches, TFT screen, 16 M colors, 320 * 240 pixels resolution
Weight : 114 g
comaprison :
Nokia E5 – 126 g
Nokia E72 – 128 g
Nokia E63 – 126 g
QWERTY keyboard
Memory : 55 MB memory, 64 MB RAM, 128 MB ROM, micro SD memory card slot memory extendable upto 8 GB, hot swappable
comparison :
Nokia E5 – 250 MB, 256 MB RAM, micro SD memory extendable to 32 GB
Nokia E72 – 250 MB, 128 MB RAM, micro SD memory extendable to 16 GB
Nokia E63 – 120 MB, micro SD memory extendable to 16 GB
Series 40 software platform and Firmware update over the air application
Battery : 1320 mAh Li-Ion standard battery with a standby power of 800 h, talk-time power of 7 h and music playback time of 30 h maximum with offline mode
comparison :
Nokia E5 – 1200 mAh Li-Ion standard battery with a standby power of 670 h, talk-time power of 6 h
Nokia E72 – 1500 mAh Li-Po standard battery with standby power of 576 h, talk-time power of 6 h
Nokia E63 – 1500 mAh Li-Po standard battery with standby power of 480 h, talk-time power of 5 h
Music player, 3.5 mm audio jack
Video ringtones, other ringtones like MP3, WMA, MIDI, AAC, eAAC+
Camera : 2 MP, zoom upto 4x digital, can capture video in MPEG-4, QCIF max
comparison :
Nokia E5 – 5 MP, LED flash
Nokia E72 – 5 MP, LED flash, auto focus
Nokia E63 – 2 MP, LED flash
Stereo FM radio, RDS
Voice commands
Games
GPRS
EDGE
IEEE 802.11 b/g Wi-Fi with maximum speed of 11 Mbps/ 54 Mbps
High-speed USB 2.0
Bluetooth v2.1
Support for local synchronization
Serves as data modem
TCP/IP support
Flight mode
Automatic switching between GSM bands
SMS, MMS, Email, IM, Push
Nokia OSS web browser
Web browsers/pages like yahoo mail, gmail, messengers like gtalk, yahoo messenger, Ovi chat and etc for mails and chat,live feeds fron facebook, twitter etc.,
Flash Lite v3.0
Colors : golden white, pink and slate grey