iOS 5 is Apples new operating system with features that are exceeding two-hundred, this iOS is compatible with iPhone 3GS, iPhone 4, iPad, iPad 2, and iPod Touch of both 3G and 4G. The new features in this iOS are iMessage, News Stand, Notification Center, Camera, Reminders, Photos, Twitter, Safari, PC Free, Mail, Calender, Multi-Tasking Gestures for iPad, Air- Play Mirroring for iPod 2, Wi-Fi Sync, Game Center and etc.,
iMessage : is a feature where we can send text messages using Wi-Fi or 3G from iPhone/ iPod Touch/ iPad to others having these devices. It also allows you to send photos, videos, contacts and locations, receive delivery receipts, read receipts which is optional, and other features like ellipsis points appear when you get a response to your message from others, a conversation begun in an iOS device can be ended on an other iOS device.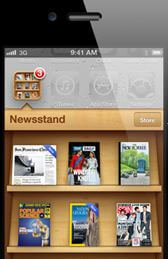 Newsstand : is a feature where it allows you to organize all your favorite magazines and newspapers for which you have subscribed. Subscriptions can also be made through App Store where you can search and also get the ratings for that particular magazine/ newspaper, and the newly subscribed appear on the newsstand automatically. It also updates your magazines/ newspapers including their latest outer cover when a new issue arrives.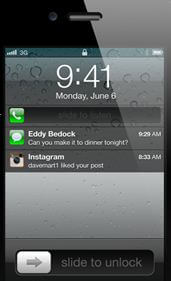 Notification Center : is a feature where it organises all your notifications such as new email, text messages, friend requests and etc., to a single location which can be accessed while visiting any application, you can view them by sliding it down from the top of your screen, they also immediately disappear without interrupting while you work on different applications, and it also allows you to easily respond to notifications like a single swipe to listen to voicemails when the device is on lock screen mode.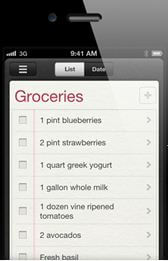 Remainders : since this feature allows you to organize your to-do list with due dates and location it alerts you immediately while you reach that particular location, they also work with iCal, iCloud, and Outlook therefore an automatic updation is made to all your devices calendar.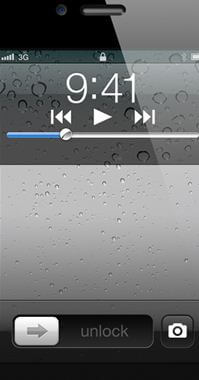 Camera : Now you can access to camera app from lock screen with one tap, features like grid-lines, touch and  focus to lock a particular images focus and exposure, pinch to zoom, and take a snap by pressing the volume up button.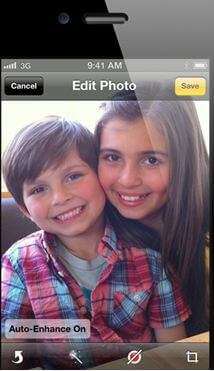 Photos : it includes features like Auto-Enhance, Red Eye Removal by making a single tap on the eye and double tap to undo it, crop, rotate within the photo app, and other features like a copy of the photo is sent to iPad automatically when taken with iPhone/ iCloud, organizing your photos in albums.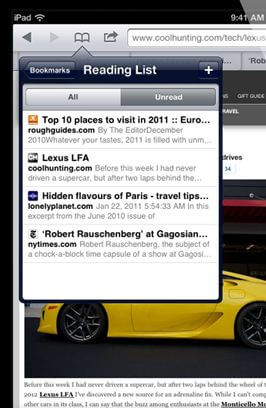 Safari : has been enhanced with features like Reading List where where it allows you to save your favorite articles/ pages for later reading and can be updated to all other iOS devices using iCloud, Tabbed browsing in iPad to shift between pages using tabs, and can read articles without any ads/ clutter.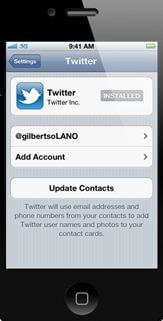 Twitter : this feature allows you to tweet from your iOS devices, you can sign in through the settings given, add location,  and can tweet directly from photos, safari, youtube and etc., as twitter is integrated systemwide.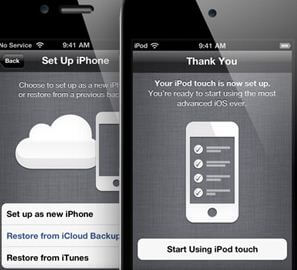 PC Free : this feature allows you to activate and set your iPhone/ iPod Touch/ iPad wirelessly therefore you need not have a PC or Mac for downloading free iOS software updates, editing photos, adding new email folder and etc., and can backup and restore your device with iCloud automatically.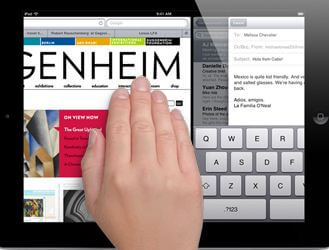 Multi-Tasking Gestures : using four/ five fingers swipe the screen where you can view multi-tasking bar, pinch to restore to home screen, and swipe leftwards and rightwards to shift between apps.
Wi-Fi Sync : for wireless connection to your iOS device to your PC/ Mac, so that when your iOS device is connected to a power source it automatically syncs and backs up all new contents present to your iTunes.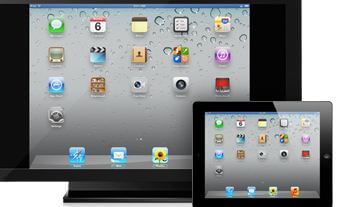 Air Play Mirroring : as the feature now supports video mirroring streaming can be done wirelessly and securely from your iPad 2 to HDTV via Apple TV.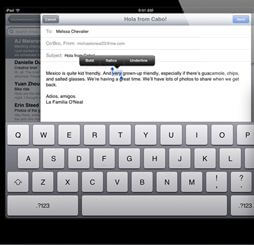 Mail : feature allows you to format the text which you type in your mail such as creating indents, bold, italics, underline, you can also rearrange the names in the address field, add/ delete folders, flag messages, search for any particular mails by typing the body of the message.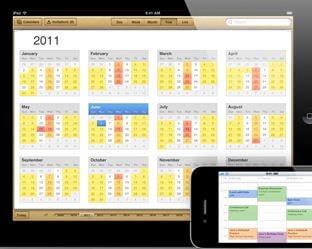 Calender : you can create an event by a single tap, organize your events such as add, view event attachments, delete and rename directly from calender app, adjust time and duration by dragging, and these events can also be shared and kept in sync with other iOS devices using iCloud.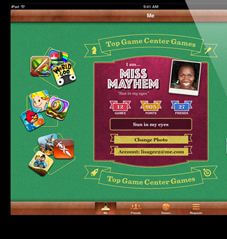 Game Center : comes with even more Game Center features such as you can add a profile picture, get new friend recommendations depending on the games you play and the players, new overall achievement score to catch up with your opponents, find new games within the Game Center and etc.,