Apple iPad is the favourite Tablet computer of 2010.Apple iPhone,Apple iPod,Apple iTouch and a laptop notebook together forms the Apple iPad.Reading books,watching movie,listening music,playing games,browsing the internet,using applications,reading emails,watching TV can all be done in a single thin light weight device.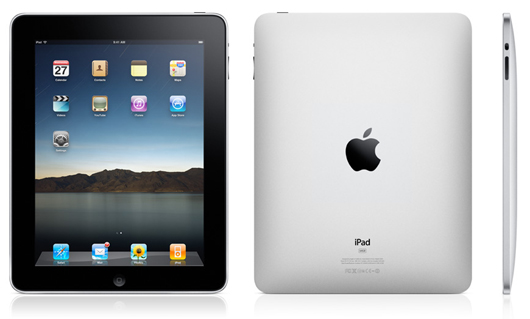 Specifications in Detail

weight
Wi-Fi model – 0.68 kg (1.5 pounds )
Wi-Fi + 3G model – 0.73 kg (1.6 pounds)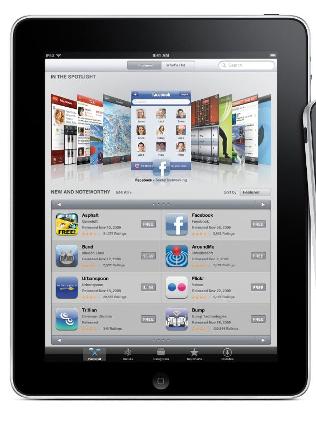 Size
Height : 9.56 inches (242.8 mm)
Width: 7.47 inches (189.7 mm)
Depth:0.5 inch (13.4 mm)
Display
Multi touch display at great ease.Good touch screen for navigation,nice animation for all events even for opening and closing up of folders or files.Gives the real effect of book reading when turning between pages.
1024-by-768-pixel resolution
Fingerprint-resistant oleophobic coating
Support for display of multiple languages and characters simultaneously
Processor
1GHz Apple A4 custom-designed, high-performance, low-power system-on-a-chip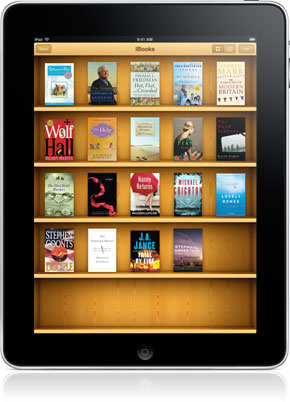 Battery
Built-in 25-watt-hour rechargeable lithium-polymer battery
Up to 10 hours of surfing the web on Wi-Fi, watching video, or listening to music
Up to 9 hours of surfing the web using 3G data network
Charging via power adapter or USB to computer system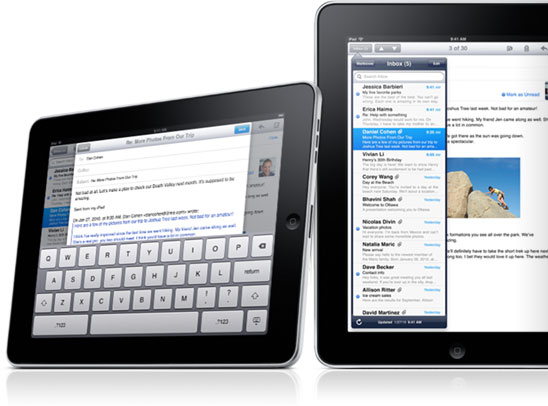 Mail Attachment

Supports almost all kind of file extensions
.jpg, .tiff, .gif
.doc and .docx
.htm and .html
.key (Keynote)
.numbers (Numbers),.pages (Pages),.pdf
.ppt and .pptx
.txt (text)
.rtf (rich text format)
.vcf (contact information)
.xls and .xlsx
Wi-Fi model

Wi-Fi (802.11a/b/g/n)
Bluetooth 2.1 + EDR technology
Wi-Fi + 3G model

UMTS/HSDPA (850, 1900, 2100 MHz)
GSM/EDGE (850, 900, 1800, 1900 MHz)
Data only2
Wi-Fi (802.11a/b/g/n)
Bluetooth 2.1 + EDR technology
Others
Available with 16 GB,32 GB and 64 GB
Available with 3G and without 3G
Support for TV and Video
Provisions to attach keyboard through Dock connector port
Can be typically used for business purposes and its easy to do presentations all with touch of fingers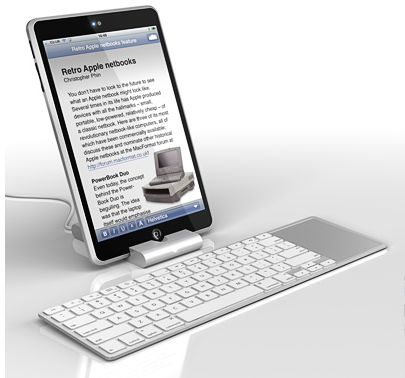 Exclusive iPad Case
Map application has street view, satellite view and new terrain view.So now its even easy to see the streets of the locations marked in Map.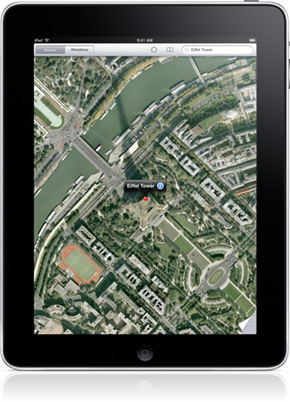 (Visited 72 times, 1 visits today)