Nokia is about to concentrate in Chinese Market. It has announced its launch of two TD-SCDMA devices in the Chinese market. These phones will be present in the World Expo Shanghai 2010. Nokia C5 and X5 are the first devices that support joint mobile apps – Mobile Market-Ovi Store. These mobiles will have preloaded apps such as CMCC Music, Mobile Video, Fetion Im apart from this the mobiles are 3G enabled that supports social networking sites.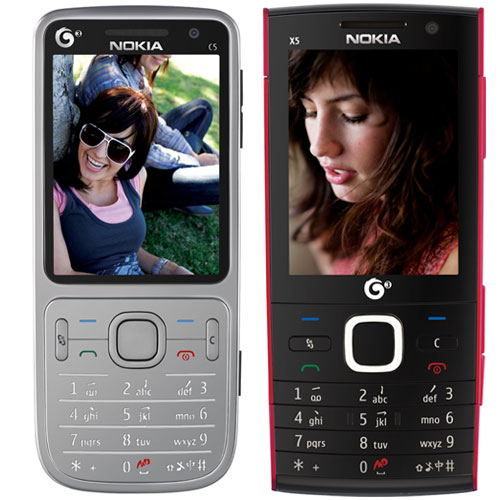 Nokia X5
This is a perfect gift for music lovers. It has dedicated music keys that helps to access to CMCC music. Nokia X5 has a 5MP Camera, dual LED flash and video recording. This device will be offered in three colors red, black and white.
Nokia C5
This mobile has a extra-ordinary battery life of 80 days standby and seven hours talk time. Nokia C5 is offered with a stainless-steel keypad, sleek in design. It has a 2.4″ screen and 5Mp Camera available in silver and black.
These devices offered by Nokia is expected available in the market in the third quarter of 2010.
(Visited 99 times, 1 visits today)