This post talks answers the following questions:
Nokia 5530 – Express Music
Nokia 5530 is the slimmed down version of Nokia's first Full Touch screen phone the Nokia 5800. So we thought it will be good to compare these two models before detailing out the review of the 5530.
It's not only the features that have reduced in 5530 but also the dimensions. The newer Nokia 5530 is notably thinner and smaller than 5800.
In Length x Width x Thickness the phones are as below
Nokia 5800 – 111 x 51.7 x 15.5
Nokia 5530 – 104 x 49 x 13
Nokia N97 – 117 x 55.3 x 15.9
And one more important omission from the Nokia 5530 is the 3G support and along with it 3G calling. The 5800 has a inbuilt 8GB memory but 5530 comes with 100MB inbuilt and a free 4GB card expandable up to 16GB.
Other important difference we did notice is the battery performance between Nokia 5800 and Nokia 5530.
Nokia 5800 – Battery BL-5j – 1320 mAh – Powerful
Nokia 5530 – Battery BL-4u – 1000 mAh – Weaker
The 5800 has almost 100% more talk time and standby time compared to the Nokia 5530.
Nokia 5800 – Talk Time – 8 hours 40 Minutes Standby Time – 406 Hours
Nokia 5530 – Talk Time – 4 hours 54 Minutes Standby Time – 351 hours
The user memory has been increased from 81 MB in 5800 to 100MB in Nokia 5530.
Other than the above mentioned both the phones are almost identical. So let get down to the specifications and usability.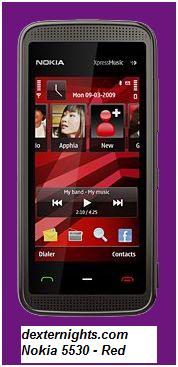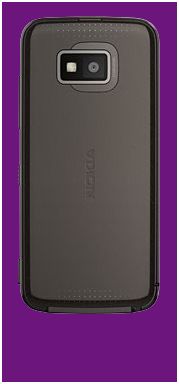 Usability :
The newer model 5530 has a more stable software (after several refinements in 5800) and the UI appears to be more consistent than the 5800, but the software itself is identical and very few other changes are visible. Some times it felt the touch screen is not very sensitive.
Technical Specification :
Size
Form: Classic with full touch
Dimensions: 104.0 x 49 x 13 mm
Weight: 107 g
Volume: 68 cc
Full touch interface
Display and 3D
Size: 2.9″
Resolution: 640 x 360 pixels
Up to 16.7 million colours
AFFS technology
Brightness control
Keys and input method
Touch screen with pen or finger input
Touch input methods
– Full screen QWERTY
– Alphanumeric keypad
– Handwriting
Power key
Volume key
Camera key
Keylock switch
Dedicated touch keys: send, end, home
Voice commands
Colours and covers
Available in-box colours:
– Black with red accents
– White with blue accents
– White with yellow accents
– Black with grey accents
– White with pink accents
Connectors
Micro-USB connector
3.5 mm stereo headphone plug
Memory
microSD memory card slot with hot swap, up to 16 GB (4 GB memory card included)
70 MB internal user memory
Power
BL-4U 1000 mAh Li-Ion battery
Talk time: up to 4 h 54 min (GSM)
Standby time: up to 351 h (GSM)
Video playback time: up to 3 h 45 min (QCIF, 15 fps)
Music playback time: up to 27 h
Communication and navigation
Operating frequency
Quad-band GSM 850/900/1800/1900
Automatic switching between GSM bands
Flight mode
Data network
CSD
HSCSD
GPRS / EDGE class B, Multi Slot Class 32 (5 Rx +3Tx, Max Su7m 6), maximum speed 177/296 kbps (UL/DL)
WLAN; IEEE 802.11 b/g
TCP/IP support
Local connectivity and synchronisation
Bluetooth version 2.0 (A2DP & AVRCP)
MTP (Mobile Transfer Protocol) support
Call features
Call waiting, call hold, call divert
Logging of dialled, received and missed calls
Automatic redial
Contacts Bar; speed dialling
Vibrating alert (internal)
Side volume keys (dedicated)
Mute/unmute
Contacts with images
Talking ring tones
Conference calling
Messaging
SMS
SMS storage: limited available memory (70 MB internal, 4 GB on memory card)
Contacts bar for up to 20 contacts
Multiple SMS deletion
Text-to-speech message reader
MMS (OMA 1.3)
Automatic resizing of images for MMS
Audio Messaging (AMS)
Common inbox for SMS and MMS messages
Distribution lists for messaging
Cell broadcast
E-mail
Supported protocols: IMAP, POP, SMTP
Support for e-mail attachments
Support for e-mail with filtering
IMAP IDLE support
Web browsing
Supported mark-up languages: HTML, XHTML, WML
Supported protocols: HTTP, WAP
TCP/IP support
Full web browser
Nokia Mobile Search
Image and sound
Photography
3.2 megapixel camera (2048 x 1536 pixels)
Image formats: JPEG
4x digital zoom
Autofocus
Focal length: 3.7 mm
Focus range: 10 cm to infinity
Macro focus: 10-60 cm
LED flash
Flash modes: On, off, automatic, red-eye reduction
White balance modes: automatic, sunny, cloudy, incandescent, fluorescent
Center weighted auto exposure; exposure compensation: 1/10000 ~ 1/5 s
Capture modes: still, sequence, self-timer, video
Scene modes: automatic, user defined, close-up, portrait, landscape, sports, night, night portrait
Colour tone modes: normal, sepia, black & white, vivid, negative
Light sensitivity modes: high, medium, low, automatic
Full-screen viewfinder with grid
Active toolbar
Dedicated camera key
Photo editor on device
Video
Video recording at up to 176 x 220 pixels (QCIF) and up to 15 fps
Up to 4x digital video zoom
Video recording file formats: .mp4, .3gp
Audio recording format: AMR
Video white balance modes: automatic, sunny, cloudy, incandescent, fluorescent
Scene modes: automatic, low light mode, night
Colour tone modes: normal, sepia, black & white, vivid, negative
Clip length (maximum): 1 h 30 min
RealPlayer
Video playback file formats: .3gp, .mp4, RealPlayer
Video streaming: .3gp, .rm
Landscape mode video playback
Video ring tones
Video editor on device
Music and audio playback
Nokia music player
– Playlists
– Shuffle
– Repeat
– Equalizer
– Use music as ringtone
– Assign song to contact
– Loudness
– Stereo widening
– Bass booster
Music playback file formats: .mp3, SpMidi, AAC AAC+, eAAC+, WMA. MTP support
Audio streaming
Dedicated volume keys
Dedicated touch music keys on Homescreen
Touch volume switch when using video player
Stereo FM radio
3.5 mm stereo headphone plug
Nokia Podcasting support
Nokia Music Store support
Ring tones: mp3, aac, 64-tone polyphonic
3D surround sound stereo speakers
Use music track as alarm tone
Voice and audio recording
Voice commands
Voice dialling
Voice recorder
Audio recording formats: AMR
FR, EFR, WCDMA, and GSM AMR
Digital stereo microphone
Text-to-speech
Personalisation: profiles, themes, ring tones
Customizable profiles
Ring tones: mp3, aac, 64-tone polyphonic
Video ring tones
Support for talking ring tones
Themes
Homescreen elements customisable
(Visited 205 times, 1 visits today)