Zen X-Fi2 is one of the best audio players from Creative yet – this is a touchscreen player and does not have fussy buttons involved. It simply lets your fingers work magic across the 3″ TFT LCD screen and gain access to all player features instantly.
The ZEN X-Fi2 allows you to experience stellar X-Fi technology even with your stored movies and FM radio1, restoring audio to even higher levels of clarity than before.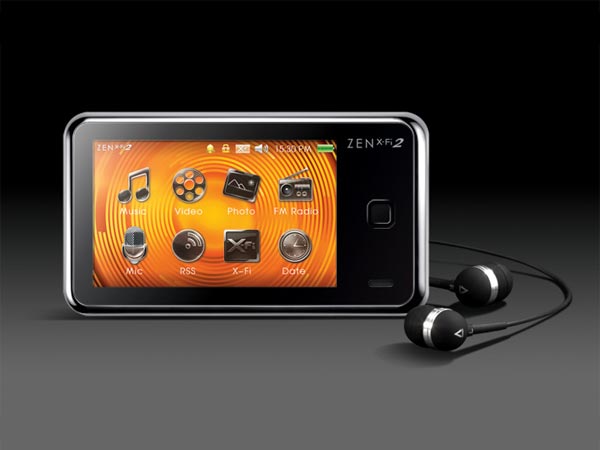 Besides a bigger screen size than its predecessor, the ZEN X-Fi2 supports multiple audio formats including the much desired Free Loss less Audio Codec (FLAC), which delivers audio without compromising on its original quality. The player also supports iTunes® Plus (unprotected AAC format) which compresses audio data much more efficiently than older formats.
Physical Specifications
Capacity – 8GB / 16GB / 32GB
Size – 102mm x 57mm x 11.6mm
Weight – 75g
LCD
– 3.0″ TFT Touch Screen LCD, 262k colors
– 400 x 240 pixels resolution
Songs
8GB
– Up to 4,000 WMAs/ 266hrs (Approx. 4mins per song at 64kbps WMA)
– Up to 2,000 MP3/ 133hrs (Approx. 4mins per song at 128kbps MP3)
– Up to 2,000 AAC/ 133hrs (Approx. 4mins per song at 128kbps AAC)
16GB
– Up to 8,000 WMAs/ 532hrs (Approx. 4mins per song at 64kbps WMA)
– Up to 4,000 MP3/ 266hrs (Approx. 4mins per song at 128kbps MP3)
– Up to 4,000 AAC/ 266hrs (Approx. 4mins per song at 128kbps AAC)
32GB
– Up to 8,000 WMAs/ 532hrs (Approx. 4mins per song at 128kbps WMA)
– Up to 8,000 MP3/ 532hrs (Approx. 4mins per song at 128kbps MP3)
– Up to 8,000 AAC/ 532hrs (Approx. 4mins per song at 128kbps AAC)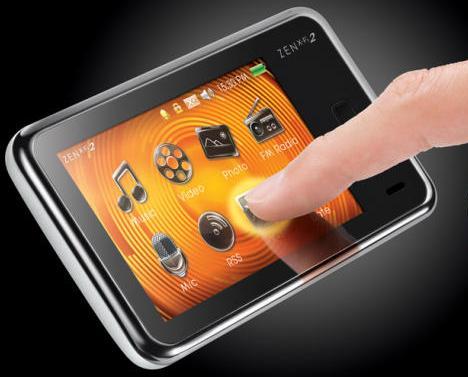 Battery Life
– Up to 25hrs2 of audio playback
– Up to 5hrs2 of video playback
X-Fi Audio Enhancement – Adjustable Crystalizer / Expand effects
Video / Audio Out – PAL / NTSC (via A/V cable sold separately)
Expansion Slot – microSD memory card support
RSS – Displays RSS content feeds offline (Sync via PC/Laptop connected to the internet)
Power Charging – Via PC-USB or ZEN USB Power Adapter (sold separately)
Video Playback Formats
– WMV9, MPEG4-SP3, DivX3 4/5 and XviD3
– Up to 640 x 480 video size
Audio Playback Formats – MP3, WMA (DRM9), WAV (IMA-ADPCM) Audible4, AAC4, FLAC4.
Photo Formats Supported – JPEG, BMP (TIFF, GIF, PNG to be converted with bundled software)5
Battery – Built-in Li-ion Battery
FM Radio – Built-in FM Radio with 32 preset stations
Organizer – Clock, Alarm, Calendar, Task, Contacts
Built-in speaker – Yes
Album Art – Only for MP3 and WMA files
Voice Recording format – IMA-ADPCM (*.wav) (Built in MIC)
Connectivity – USB 2.0 recommended
Price
This MP3 Player is available for Rs. 13,599/-