Nokia X2-01 is the cheapest QWERTY phone launched in India, its price is Rs 4459. The dimensions of the phone are  119.4 * 59.8 * 14.3 mm with TFT screen, 256,000 colors, 2.4 inches in size and weighs 107.5 g. It has 55 MB of memory 64 MB RAM, 128 MB ROM and microSD card for memory extension upto 8 GB.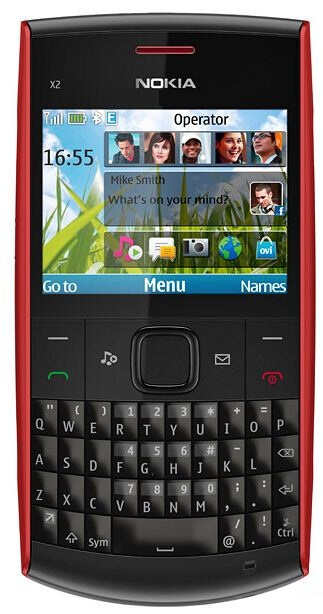 The other features of the phone are GPRS, EDGE, Bluetooth v2.1 with A2DP, VGA camera with a resolution of 640 * 480 pixels and video camera with resolution of 15 frames per second, it has speakers with 3.5 mm audio jack, MP3 and MP4 player, Stereo FM Radio, Games, Flash Lite v3.0, Messaging through SMS, MMS and Email.
The battery is of 1020 mAh Li-Ion battery with standby power of 480 hours and talk time power of 5 hours. The phone comes in five colors like Azure, Silver, Red, Lilac, and DeepGrey.
Dimensions : 119.4 * 59.8 * 14.3 mm
Screen : TFT screen, 256,000 colors, 2.4 inches in size
Weight : 107.5 g
Memory : 55 MB of memory 64 MB RAM, 128 MB ROM and microSD card for memory extension upto 8 GB
GPRS
EDGE
Bluetooth v2.1 with A2DP
VGA camera with a resolution of 640 * 480 pixels and video camera of resolution of 15 frames per second
Speaker phone with 3.5 mm audio jack
MP3 and MP4 player
Stereo FM Radio
Games
Flash Lite v3.0
Messaging through SMS, MMS and Email
Battery : 1020 mAh Li-Ion battery with standby power of 480 hours and talk time power of 5 hours
Colors : Azure, Silver, Red, Lilac, and DeepGrey
(Visited 80 times, 1 visits today)