E5 of Nokia is a QWERTY phone with High Speed Downlink Packet Access of 10.2 Mbps max and High Speed Uplink Packet Access of 2 Mbps max 3G network and Tri-Band WCDMA. The phone weighs 126 g, dimensions are 115 * 58.9 * 12.8 mm, 2.36 inches in size, TFT screen with 256,000 colors and 320 * 240 pixels resolution (QVGA). Its Operating System is Symbian OS v9.3 and ARM 11 600 Mhz processor.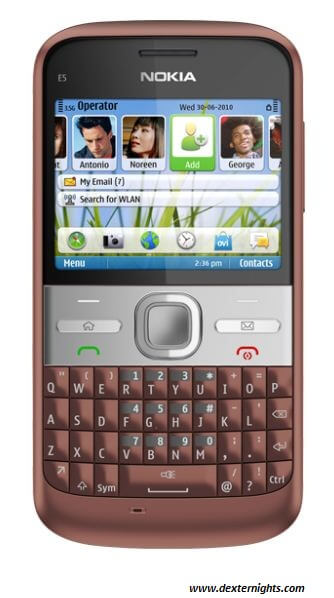 The battery is 1200 mAh Li-Ion battery with a talk-time power of 6 h, standby power of 670 h and stereo music player playback time of 38 h. It has music player for MP3, AAC, AAC+, eAAC+, and WMA, Real Media Player, Ovi Music, Internet Radio, Stereo FM Radio, speakerphone with 3.5 mm audio jack. While looking at other features like camera the phone has 5MP, full focus, LED flash, can zoom up to 3x digital, image editor, can take video in VGA at the rate of 15 frames per second with mp4 video file formating, recording file formats like mp4 and 3gp.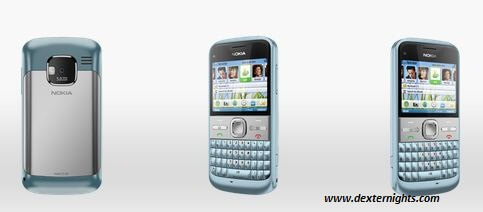 On viewing its memory storage capacity it has 250 MB internal memory, 256 MB RAM, and external memory microSD memory card slot with 2GB card extendable till 32 GB. Its other features include wireless LAN Wi-Fi of IEEE 802.11 b/g, Stereo Bluetooth v2.0 with (A2DP – Advanced Audio Distribution Profile – used for streaming high quality audio from one device to another using bluetooh connection, AVRCP – Audio/Video Remote Control Profile – a single remote control to control all audio/video equipments to which it has access), Local and remote synchronization, GPS, GPRS, EDGE, Messaging through SMS, MMS, Push, Email, and IM, Audio messaging, Games, Flash Lite 3.0, business phone features like Quick office suite, Adobe PDF Reader, ZIP, Intranet, Device Encryption and etc., the phone comes in five different colors such as carbon black, copper brown, silver grey, chalk white and sky blue.
Nokia E5 Specifications and Comparison :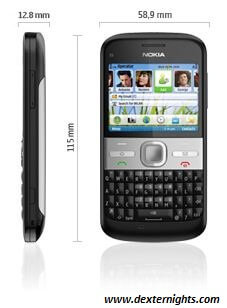 Dimensions : Nokia E5 – 115 * 58.9 * 12.8 mm, 2.36 inches in size, TFT screen with 256,000 colors and 320 * 240 pixels resolution (QVGA)
comparison :
Nokia E72 – dimensions are 114 * 58 * 10 mm, 2.36 inches, TFT screen, 16 M colors, 320 * 240 pixels resolution
Nokia E63 – dimensions are 113 * 59 * 13 mm, 2.36 inches, TFT screen, 16 M colors, 320 * 240 pixels resolution
Weight : Nokia E5 – 126 g
comparison :
Nokia E72 – 128 g
Nokia E63 – 126 g
QWERTY keypad
OS : Symbian OS v9.3 and ARM 11 600 Mhz processor
Memory : Nokia E5 – 250 MB internal memory, 256 MB RAM, and external memory microSD memory card slot with 2GB card extendable till 32 GB
comparison :
Nokia E72 – 250 MB, 128 MB RAM, micro SD memory extendable to 16 GB
Nokia E63 – 120 MB, micro SD memory extendable to 16 GB
3G : Nokia E5 – High Speed Downlink Packet Access of 10.2 Mbps max and High Speed Uplink Packet Access of 2 Mbps max
comparison :
Nokia E72 – High Speed Downlink Packet Access of 10.2 Mbps max and High Speed Uplink Packet Access of 2 Mbps max
Nokia E63 – 384 Kbps
Tri-Band WCDMA
Battery : Nokia E5 – 1200 mAh Li-Ion battery with a talk-time power of 6 h, standby power of 670 h and stereo music player playback time of 38 h
comparison :
Nokia E72 – 1500 mAh Li-Po standard battery with standby power of 576 h, talk-time power of 6 h
Nokia E63 – 1500 mAh Li-Po standard battery with standby power of 480 h, talk-time power of 5 h
Camera : Nokia E5 – 5MP, full focus, LED flash, can zoom up to 3x digital, image editor, can take video in VGA at the rate of 15 frames per second with mp4 video file formating, recording file formats like mp4 and 3gp
comparison :
Nokia E72 – 5 MP, LED flash, auto focus
Nokia E63 – 2 MP, LED flash
Music player for MP3, AAC, AAC+, eAAC+, and WMA, Real Media Player, Ovi Music
Internet Radio, Stereo FM Radio
Speakerphone with 3.5 mm audio jack
Wi-Fi  – IEEE 802.11 b/g
Stereo Bluetooth v2.0 (A2DP, AVRCP)
Local and remote synchronization
GPS
GPRS
EDGE
Messaging through SMS, MMS, Push, Email, and IM, Audio messaging
Games
Flash Lite 3.0
Business phone features like Quick office suite, Adobe PDF Reader, ZIP, Intranet, Device Encryption and etc.,
Colors : carbon black, copper brown, silver grey, chalk white and sky blue
Price : Nokia E5 – currently the phone is available for $ 169.00 in Amazon and Rs 9904 in India
comparison :
Nokia E72 – currently the phone is available for $ 249.00 in Amazon and Rs 16,250 in India
Nokia E63 – currently the phone is available for $ 176.99 in Amazon and Rs 7740 in India
Therefore the mobile seems to be a best deal while considering its price and its features with 3G network
(Visited 112 times, 1 visits today)