Nokia C3-01 is a touchscreen phone with 3G of 10.2 Mbps of High Speed Downlink Packet Access and 2 Mbps High Speed Uplink Packet Access, the screen size is of 2.4 inches with a resolution of 240 * 320, with 262k colors, TFT resistive touchscreen, its dimensions are 111 * 47.5 * 11 mm, 100 g in weight. The phone has a memory of 30 MB which is further extendable to 32 GB using microSD card.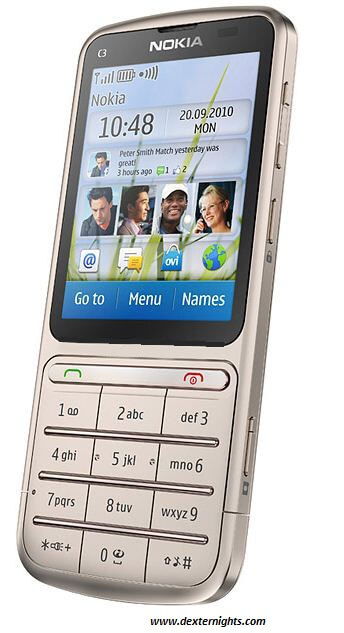 The phone has 5 MP camera with zoom up to 4x (digital), Extended Depth of Focus (EDOF), LED flash, with JPEG as still image format, you can also upload your image on facebook using WLAN and 3.5G. It captures video in QVGA (Quarter Video Graphics Array) with 30 frames per second, with 15 frames per second using VGA and has 3gp video file format.
The other features of the phone include Stereo FM Radio with RDS, customisable radio theme, media player, has music codecs like MP3, WMA, AAC, eAAC, eAAC+, it is a speaker phone with 3.5 mm audio jack, voice commands, Wi-Fi with IEEE 802.11 b/g/n, dual transfer mode GPRS, EDGE, Stereo Bluetooth v2.1 with enhanced data rate, Flight mode, has full web browsing using touchscreen control, access to facebook and twitter, nokia mobile search, Adobe Flash Lite 3.0, RSS Reader, messaging using MMS, SMS, SMTP, Email, IMAP4, POP3, nokia express audio messaging, flash messaging and etc.,
The battery of the phone is of 1050 mAh Li-Ion battery with talk-time power of 4 h, stand-by power of 440 h, 20 h of music playback. The phone comes in three colors such as silver, khaki gold and warm grey. The expected price of Nokia C3-01 is $110.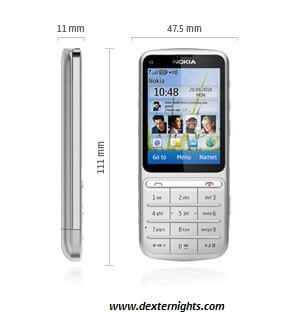 3G : 10.2 Mbps of High Speed Downlink Packet Access and 2 Mbps High Speed Uplink Packet Access
Dimensions : 111 * 47.5 * 11 mm
Weight : 100 g
Screen size : 2.4 inches
Resolution : 240 * 320, with 262k colors, TFT resistive touchscreen
Memory : 30 MB which is further extendable to 32 GB using microSD card
Camera : 5 MP camera with zoom up to 4x (digital), Extended Depth of Focus (EDOF), LED flash, with JPEG as still image format, It captures video in QVGA (Quarter Video Graphics Array) with 30 frames per second, with 15 frames per second using VGA and has 3gp video file format
Stereo FM Radio with RDS, customisable radio theme
Media player, has music codecs like MP3, WMA, AAC, eAAC, eAAC+, speaker phone with 3.5 mm audio jack
Voice commands
Wi-Fi with IEEE 802.11 b/g/n
Dual transfer mode GPRS
EDGE
Stereo Bluetooth v2.1 with enhanced data rate
Flight mode
Full web browsing using touchscreen control
Access to facebook and twitter, nokia mobile search
Adobe Flash Lite 3.0
RSS Reader
Messaging using MMS, SMS, SMTP, Email, IMAP4, POP3, nokia express audio messaging, flash messaging and etc.,
Battery : 1050 mAh Li-Ion battery with talk-time power of 4 h, stand-by power of 440 h, 20 h of music playback
Color : silver, khaki gold and warm grey
(Visited 90 times, 1 visits today)