With Indians taking to internet like never before some of India's Big media houses are seeing a steady online revenue through their online versions and the new media is also getting the hold of the new audience. But with more reach and audience, the greed of Media houses seems to only grow higher. Though we understand the importance of advertising to online media, the number of ads and its nature is very important for staying away from the annoying list. Some of the biggest news websites are the most annoying as well. Here is the A List of Most annoying Indian websites..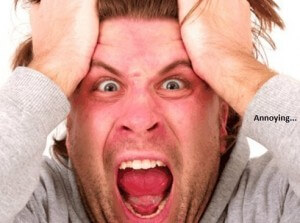 Times Of India and Economic Times –
http://timesofindia.indiatimes.com
The most popular English daily in Western and Northern Parts of India, it has the maximum reach in India. But its online version with the indiatimes domain is the most annoying of major Indian Sites. You can see their advertisement strategy comparable to desperate bottom rung sites of web. At any time you can see 5-6 Image ads , two ad bars and many more Text links. Well to top that all a video opens and starts playing covering 3/4 of the screen, not just once but many times a day when you browse through this site, the worst part is you can stop the video/pause it using the video control. We are still wondering what benefits do these advertisers get by annoying the users appear one among ten others ads in the website.
Oneindia.in –
One of the new sites which has come into to forefront by offering regional news and Cine News is OneIndia.in . A popular domain catering different types of users. Not in the same league of Times Of India, but definitely equally annoying compared to the indiatimes websites.
IBNLive – in.com –
in.com is another major domain with forceful advertising, with lots of flash content from various providers the sites provide serious security risk if someone is using a older browser like IE 6. Not always putting a in your face video, but still is one of the annoying site in the web.
The below sites also fall under the annoying list with both Popup advertisments and other annoying type of ads.
expressbuzz.com
MoneyControl.com
hindustantimes.com
You might find almost all major India News Websites as annoying in terms of user experience, but pick the worst and add it in the comments section, the post will be duly updated.
(Visited 117 times, 1 visits today)