HTC 7 Pro is a smartphone with QWERTY slideout keypad and as the name would suggest it is a phone running Microsofts Windows Phone OS 7. The dimensions of the phone are 117.5 mm * 59 mm * 15.5 mm, it weighs 185 g, 3.6 inches capacitive touchscreen with pinch-to-zoom capability and with resolution of 480 * 800 WVGA. The 3G network has a High Speed Downlink Packet Access of 7.2 Mbps and High Speed Uplink Packet Access of  2 Mbps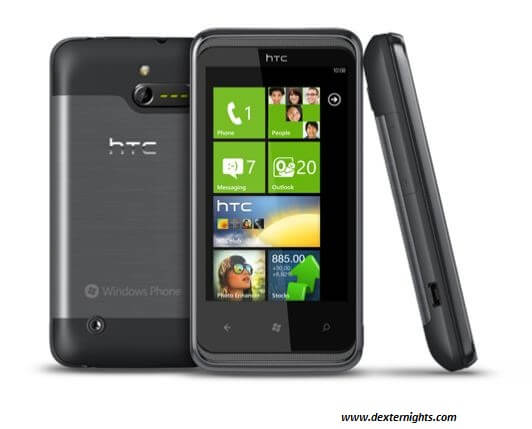 The camera is of 5 MP with auto-focus and flash, HD video recording can be done at 720p. It is a speaker phone with 3.5 mm audio jack, SRS surround sound, with audio supported formats like mp3, m4a, m4b, wma (Wondows Media Audio 9) and with video supported formats like mp4, 3gp, 3g2, m4v, and etc.,
The internal memory of the phone is 8 GB, 512 MB ROM, 576 MB RAM. It has CPU Processing Speed of 1 GHz. The other features of the phone include GPRS, EDGE, Internal GPS antenna, Wi-Fi with IEEE 802.11 b/g/n, Bluetooth v2.1 with Enhanced Data Rate, A2DP for wireless stereo headsets, HTC hub where you can view weather, stocks, converter, photo enhancer, sound enhancer, and etc., webpages like facebook, twitter are available for social networking, sensors like G-sensor, proximity sensor, ambient light sensor, digital compass and etc., are available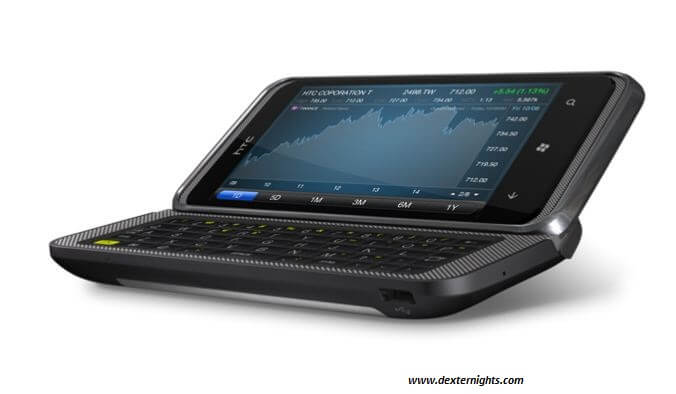 The battery is of 1500 mAh Li-Ion battery with standby power of  420 h and talk time power of  420 mins. The messaging options include SMS, MMS, Push, Email and IM. It is only available in one color ie., black. The expected price of HTC  7 Pro is $575 for unlocked phone.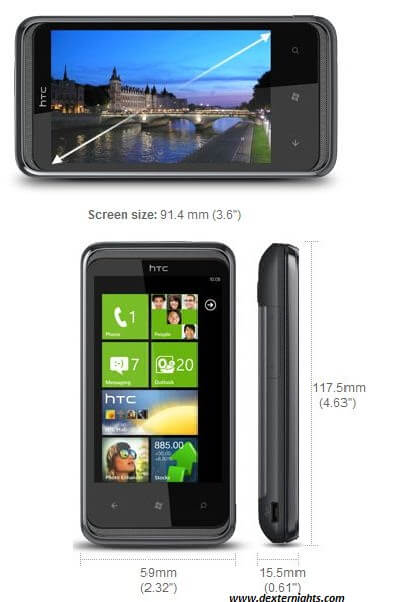 Dimensions : 117.5 mm * 59 mm * 15.5 mm
when compared to : Samsung I9000 Galaxy S dimensions are 64.2 * 122.4 * 9.9 mm
iPhone dimensions are 115.2 * 56.8 * 9.3 mm
Blackberry Torch dimensions are 111 x 62 x 14.6 mm
when compared to : Samsung I9000 Galaxy S is 118 g
iPhone weighs 137 g
Blackberry Torch weighs 161 g
Resolution : 480 * 800 WVGA
when compared to : Samsung I9000 Galaxy S is WVGA (480 * 800)
Screen : 3.6 inches capacitive touchscreen with pinch-to-zoom capability
when compared to : Samsung I9000 Galaxy S is Super Active Matrix OLEDs (C-Type) display screen
iPhone is TFT capacitive touchscreen
Blackberry Torch is TFT capacitive touchscreen
3G : High Speed Downlink Packet Access of 7.2 Mbps and High Speed Uplink Packet Access of  2 Mbps
Internal memory : 8 GB, 512 MB ROM, 576 MB RAM, CPU Processing Speed of 1 GHz
Camera : 5 MP with auto-focus and flash, HD video recording can be done at 720p
Music : speaker phone with 3.5 mm audio jack, SRS surround sound, with audio supported formats like mp3, m4a, m4b, wma (Wondows Media Audio 9) and with video supported formats like mp4, 3gp, 3g2, m4v, and etc.,
Wi-Fi with IEEE 802.11 b/g/n
Bluetooth v2.1 with Enhanced Data Rate
A2DP for wireless stereo headsets
HTC hub where you can view weather, stocks, converter, photo enhancer, sound enhancer, and etc.,
Webpages like facebook, twitter are available for social networking
Sensors like G-sensor, proximity sensor, ambient light sensor, digital compass and etc.,
Battery : 1500 mAh Li-Ion battery with standby power of  420 h and talk time power of  420 mins
when compared to : Samsung I9000 Galaxy S standard Li-Ion (Lithium-Ion) 1500 mAh battery with a stand by power of 576 h max and a talk time power of 393 min max
iPhone has standard Li-Po 1420 mAh battery with stand by power of  3oo h and talk time power of 7 h
Blackberry Torch has standard Li-Ion 1300 mAh standard battery with stand by power of 340 h and talk time power of 6 h
Messaging : SMS, MMS, Push, Email and IM
(Visited 80 times, 1 visits today)