E-Book readers are really a boon to avid readers. We can carry thousands of books even an entire library in our hand anywhere and we can read them at any time. It has wide display screen suitable for reading books. Many people don't prefer PC/laptop for reading books as they are not comfortable and not good for eyes/health. EBook readers have overcome this problem. They are very slick and can be used as a book. It is not only a cool gadget but also eco-friendly one. It eliminates the usage of papers and thus saves million acres of trees and protects environment.
We can replace the college/school books/newspapers with e-book reader. School students can carry a single note book and an e-book reader to school, instead of carrying 5kg school bag. Doesn't it sound great? Newspaper is the main culprit in polluting our environment.  Just think for a second, we buy and read the newspapers just for an hour and for that, we destroy thousand acres of trees.
These eBook readers have come up with an improved Newspaper Experience and we can quickly flip between articles, making it faster and easier to browse and read the morning paper.
Let's look into the features of one of  popular eBook readers model:
Feature of Amazon Kindle 2:
Kindle 2 is very slick and has a width of pencil. It has 600 x 800 pixel resolution at 167 ppi and uses 16-level gray scale display. We can zoom into images and photos to the full size of the kindle.
It is light weighted (289.17 gm) and 8″ x 5.3″ x 0.36″ in size.  It has 2GB internal memory (approximately 1.4GB available for user content). So you can store up to 1500 books in kindle 2. Kindle 2 has a text-to-Speech feature and it can read book, blog, magazine, and newspaper out loud for you. If you want to listen to your favorite book privately, then you can use headset.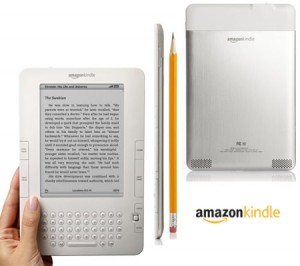 Text to speech feature has option to select between male and female voice. It also has the option to adjust the speed of reading. We can adjust the text to 8 different font sizes.
Kindle 2 provide free internet access through its wireless network Whispernet for US users. International users (India and other countries) can access Wikipedia at free of cost. It has good coverage in India and very useful. Amazon site is also enabled for international users to buy, download and browse books
Its battery life is 4 days with wireless turned on and up to 2 weeks with wireless turned off.
Content Formats Supported: Kindle (AZW), TXT, Audible (formats 4, Audible Enhanced (AAX)), MP3, unprotected MOBI, PRC natively.
It supports PDF, HTML, DOC, JPEG, GIF, PNG, BMP format through conversion only. Though we can read PDF files without conversion, we cannot use text to speech and text size adjustments in this version. To use this features, we have to convert them to kindle supported formats (unprotected MOBI, PRC).
We can use the mobipocket software for converting doc/html/PDF formats to unprotected MOBI, PRC format. You can download this software for free from the below link.
http://www.mobipocket.com/en/downloadsoft/DownloadCreator.asp
Kindle has come up with built-in Dictionary with Instant Lookup – The New Oxford American Dictionary with over 250,000 entries and definitions. In kindle2, searching options is enabled and we can search within a book, across the library, in the Kindle Store, or even the Web.
We can transfer MP3 files from computer to Kindle to play as background music while reading.
In India, it is available for Rs.14,000
Rating: 9/10.
(Visited 216 times, 1 visits today)