World's tallest building. A living wonder. Stunning work of art. Incomparable feat of engineering. Burj Khalifa is all that. In concept and execution, Burj Khalifa has no peer.
The $1.5 billion structure, an "unprecedented" engineering marvel that was thrown open to the public today, was built with a major contribution from India, a vast labor force.
The steel and glass tower was opened by Dubai's ruler Sheikh Mohammad Bin Rashid al Maktoum, who also lifted the veil on a closely guarded secret of its final height.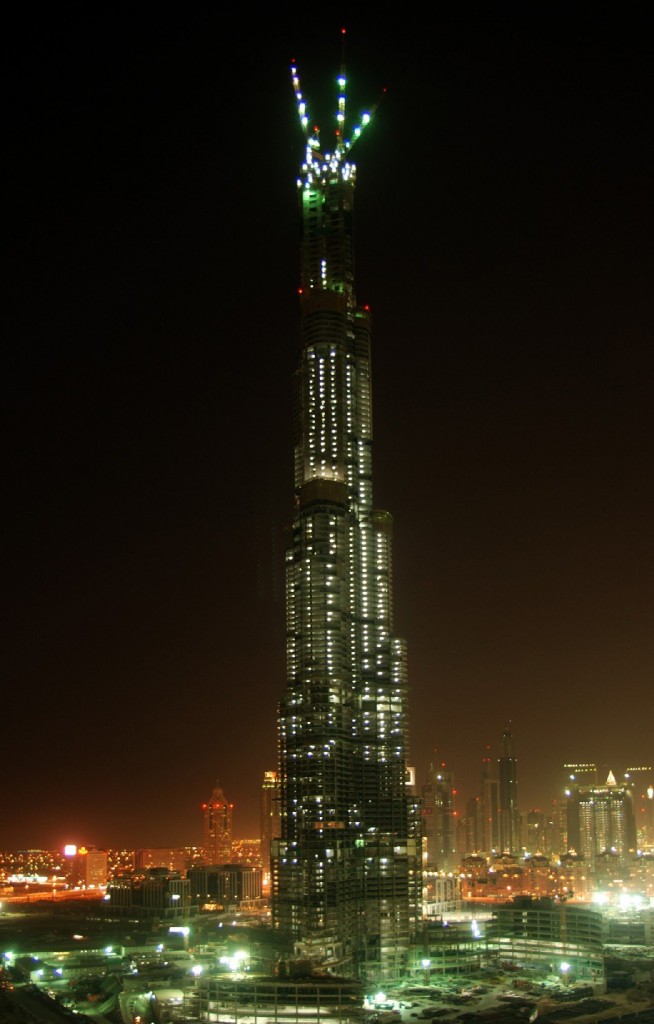 "Emirates has made a mark on the world and Dubai has built something for the world that is built by human beings," Sheikh Mohammed said while announcing the tower open. The paratroopers then came down to greet onlookers.More than just the world's tallest building, Burj Khalifa is an unprecedented example of international cooperation, symbolic beacon of progress, and an emblem of the new, dynamic and prosperous Middle East.
It is also tangible proof of Dubai's growing role in a changing world. In fewer than 30 years, this city has transformed itself from a regional center to a global one. This success was not based on oil reserves, but on reserves of human talent, ingenuity and initiative. Burj Khalifa embodies that vision.
Bringing Burj Khalifa to life required a combination of visionary ideals and solid science. In the process, the project amassed an awe-inspiring number of facts, figures, and statistics.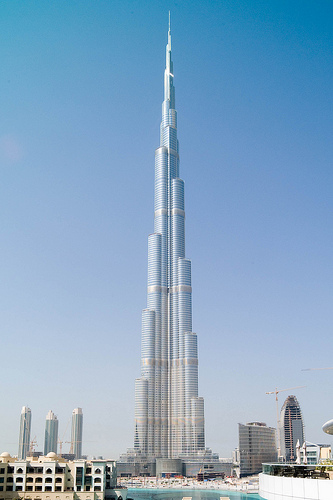 World Records
At over 800 metres (2625 feet) and more than 160 stories, Burj Khalifa holds the following records:
• Tallest building in the world
• Tallest free-standing structure in the world
• Highest number of stories in the world
• Highest occupied floor in the world
• Highest outdoor observation deck in the world
• Elevator with the longest travel distance in the world
• Tallest service elevator in the world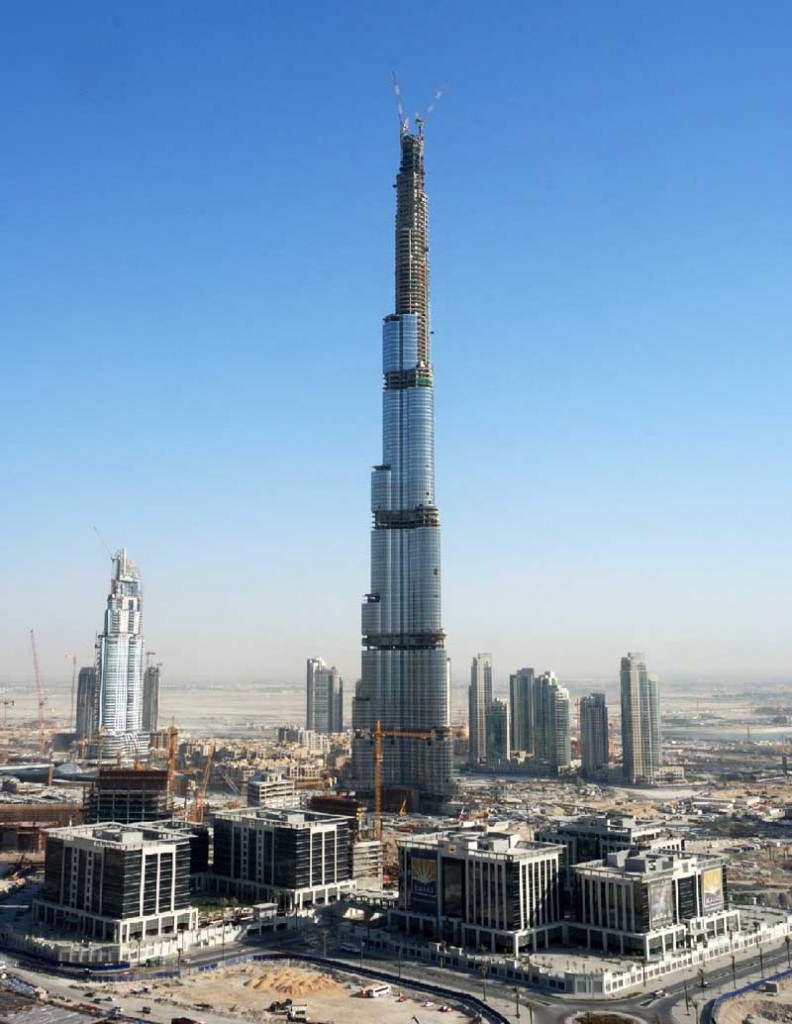 What's Inside
At The Top, Burj Khalifa – Observation deck on level 124
Atmosphere, Burj Khalifa – Fine dining restaurant on level 122
The Residence – 900 Burj Khalifa residences
The Corporate Suites – 37 office floors
Armani Hotel Dubai – 160 guestrooms and suites
Armani Residences Dubai – 144 private residences
The Park – 11 hectares park, 6 water features
3000 underground parking spaces
The Club – 4-storey fitness and recreation annex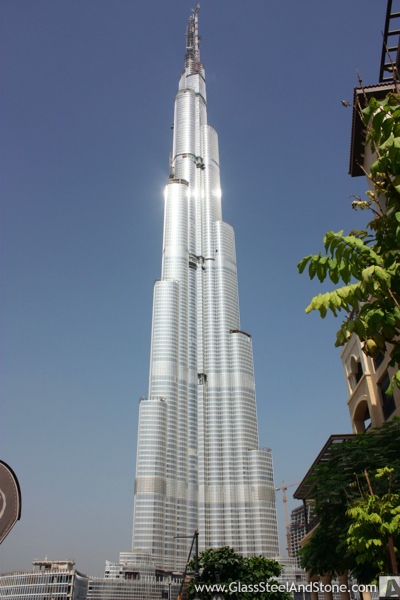 Tallest of the Supertall
Not only is Burj Khalifa the world's tallest building, it has also broken two other impressive records: tallest structure, previously held by the KVLY-TV mast in Blanchard, North Dakota, and tallest free-standing structure, previously held by Toronto's CN Tower. The Chicago-based Council on Tall Buildings and Urban Habitat (CTBUH) has established 3 criteria to determine what makes a tall building tall. Burj Khalifa wins by far in all three categories.
Inspired Design
While it is superlative in every respect, it is the unique design of Burj Khalifa that truly sets it apart. The centrepiece of this new world capital attracted the world's most esteemed designers to an invited design competition.
Ultimately, the honor of designing the world's tallest tower was awarded the global leader in creating ultra-tall structures, the Chicago office of Skidmore, Owings & Merrill LLP (SOM) with Adrian Smith FAIA, RIBA, consulting design Partner. The selected design was subject to an extensive peer review program to confirm the safety and effectiveness of the structural systems.
Burj Khalifa Construction Timeline
Excavation work began for Burj Khalifa in January 2004 and over the ensuing years to its completion, the building passed many important milestones on its goal to become the tallest man-made structure the world has ever seen. In just 1,325 days since excavation work started in January, 2004, Burj Khalifa became the tallest free-standing structure in the world.
January 2004 -Excavation started
February 2004 -Piling started
March 2005 -Superstructure started
June 2006 -Level 50 reached
January 2007 -Level 100 reached
March 2007 -Level 110 reached
April 2007 -Level 120 reached
May 2007 -Level 130 reached
July 2007 -Level 141 reached – world's tallest building
September 2007 -Level 150 reached – world's tallest free-standing structure
April 2008 -Level 160 reached – world's tallest man-made structure
January 2009 -Completion of spire – Burj Khalifa tops out
September 2009 -Exterior cladding competed
January 2010 -Official launch ceremony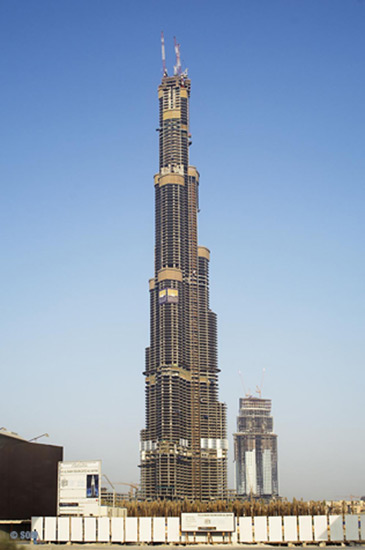 Construction Highlights
Over 45,000 m3 (58,900 cu yd) of concrete, weighing more than 110,000 tonnes were used to construct the concrete and steel foundation, which features 192 piles buried more than 50 m (164 ft) deep. Burj Khalifa's construction will have used 330,000 m3 (431,600 cu yd) of concrete and 39,000 tonnes (43,000 ST; 38,000 LT) of steel rebar, and construction will have taken 22 million man-hours.
Exterior cladding of Burj Khalifa began in May 2007 and was completed in September 2009. The vast project involved more than 380 skilled engineers and on-site technicians. At the initial stage of installation, the team progressed at the rate of about 20 to 30 panels per day and eventually achieved as many as 175 panels per day.
The tower accomplished a world record for the highest installation of an aluminium and glass facade, at a height of 512 metres. The total weight of aluminium used on Burj Khalifa is equivalent to that of five A380 aircraft and the total length of stainless steel bull nose fins is 293 times the height of Eiffel Tower in Paris.
In November, 2007, the highest reinforced concrete corewalls were pumped using 80 MPa concrete from ground level; a vertical height of 601 metres. Smashing the previous pumping record on a building of 470m on the Taipei 101; the world's second tallest tower and the previous world record for vertical pumping of 532 metres for an extension to the Riva del Garda Hydroelectric Power Plant in 1994. The concrete pressure during pumping to this level was nearly 200 bars.
The amount of rebar used for the tower is 31,400 metric tons – laid end to end this would extend over a quarter of the way around the world.
Structural Elements
It is an understatement to say that Burj Khalifa represents the state-of-the-art in building design. From initial concept through completion, a combination of several important technological innovations and innovation structural design methods have resulted in a superstructure that is both efficient and robust.
Structural elements like Foundation, Podium, Structural System, Exterior Cladding, Spire, Mechanical Floors, Window Washing Bays, Broadcast Floors, Mechanical, Electrical & Plumbing, Fire Safety & Elevators & Lifts were ensured in high class technology & design.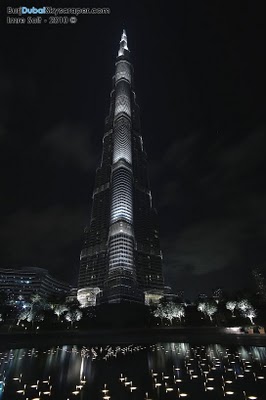 The Park
Inspired by Burj Khalifa's unique triple-lobed shape, The Park's 11 hectares of greenery and water features serve as both entry to Burj Khalifa and outdoor living space. The landscape design includes three distinct areas to serve each of tower's three uses: hotel, residential and office space. These exquisite grounds include a promenade along the Dubai lake, outdoor spaces, outdoor dining, prow lookout, leisure forest grove, playing area, water features and much more.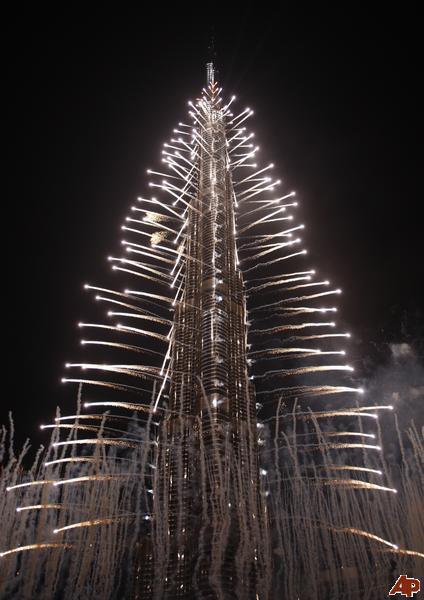 Floor plans
The following is a breakdown of floors.
Floors Use
160 and above Mechanical
156-159 – Communication and broadcast
155- Mechanical
139-154 – Corporate suites
136-138 – Mechanical
125-135 – Corporate suites
124 – At the Top observatory
123 – Sky lobby
122 – Atmosphere restaurant
111–121 – Corporate suites
109-110 – Mechanical
77-108 – Residential
76- Sky lobby
73-75 – Mechanical
44-72 – Residential
43- Sky lobby
40-42 – Mechanical
38-39 – Armani Hotel suites
19-37 – Armani Residences
17-18 – Mechanical
09-16 – Armani Residences
01-08 – Armani Hotel
Ground Armani Hotel
Concourse Armani Hotel
B1–B2 Parking, mechanical
——————————————————————————————
Official name: Burj Khalifa Bin Zayed
Also known as: Burj Dubai
Also known as: Tower of Khalifa
Formerly: Burj Dubai
Developer: Emaar
Built: 2004-2010
Cost: $4,100,000,000
Designed by: Skidmore, Owings & Merrill
Type: Skyscraper
Stories: 206
Maximum Height: 2,717 feet / 828 meters
Location: No. 1, Burj Dubai Boulevard, Dubai, United Arab Emirates
(Visited 529 times, 1 visits today)