Nokia 5235  is offered with Music which makes the music lovers to fly in the world of joy. Also this mobile comes with 3 Music Accessories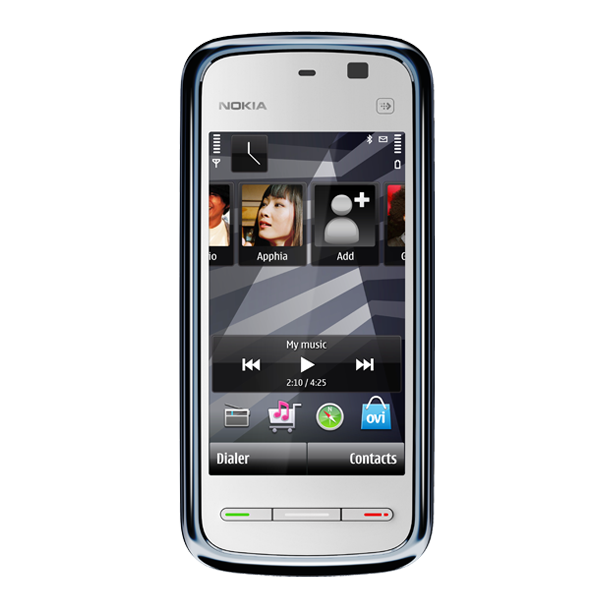 The Music can be accessed with one tap of the Media Bar – The listen to the favorite tracks in quality
sound for upto 33 hours after just one time battery charge.
U can also be a part of the online community from almost anywhere – connect to your favorite social
networks and Ovi services directly from the home screen.
Physical Features and Specifications

Design
* Classic with touchscreen
* Dimensions: 111 x 51.7 x 14.5/15.5 mm
* Weight: 115 g (with stylus)
* Volume: 83 cc (with stylus)
Display and User Interface
* Size: 3.2″
* Resolution: 640 x 360 pixels (nHD)
* Over 16 million colors
* Full touchscreen display
Keys and Input Methods
* Touchscreen
* Dedicated Media Bar
* Dedicated keys for camera, volume, power, send & end, and application launch (menu), plus the Media Bar touch key for accessing music, gallery, share online, video center and web browser
* Home screen music plug-in for pause/play, forward, back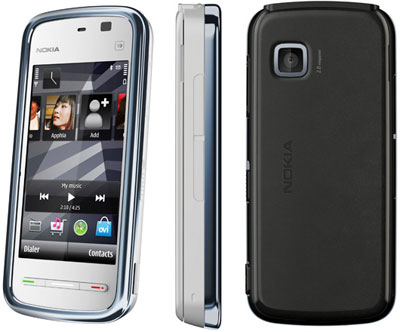 Colors
* Available colors:
White with ice-blue tinted chrome rim
Black with ice-blue tinted chrome rim
Personalization
* Customizable home screen:
Themes
Icons
Shortcuts
Menu
* Customizable profiles
* Ring tones: mp3, AAC, eAAC, eAAC+, WMA
* Video ring tones
* Themes:
wallpapers
screensavers
ringtones
pre-installed themes
changeable color themes
Hardware
Power management
* BL-5J 1320 mAh Li-Ion battery
* Talk time (maximum):
GSM 420 mins
WCDMA 258 mins
* Standby time (maximum):
* Video playback time (nHD, 30 fps, maximum): 180 mins
* Music playback time (offline mode, maximum): 33 h
Memory
* MicroSD memory card slot, hot swappable, up to 16 GB
* 320 MB internal memory
Operating Frequency
* Quad band EGSM 850/900/1800/1900
* WCDMA 850/1900, 850/2100 and 900/2100
* Automatic switching between GSM bands
* Flight mode
Data network
* CSD
* HSCSD, maximum speed 43.2 kbps
* GPRS/EGPRS Class B, multislot class 32, maximum speed 177/296kbps (DL/UL)
* EDGE class B, multislot class 32, maximum speed 177/296 kbps (DL/UL)
* WCDMA 2100, maximum speed PS 384/384 kbps (UL/DL), CS 64 kbps
* HSDPA, cat. 6, maximum speed 3.6 Mbps (DL)
* TCP/IP support
* Capability to serve as data modem
Connectivity
* Bluetooth version 2.0
* Support for local and remote SyncML synchronisation
* High-Speed USB 2.0 (micro USB connector)
* 3.5 mm AV connector
* MTP (Mobile Transfer Protocol) support
* Direct printing to compatible picture printers
* Support for PC synchronisation with Nokia Ovi Suite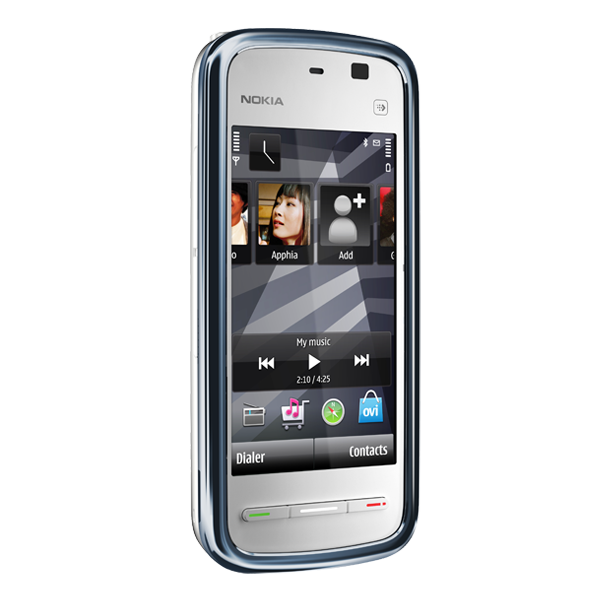 Software And Applications
Software platform & user interface
* S60 5th edition
* Symbian OS version 9.4
* Voice commands
* FOTA (Firmware update Over The Air)
* Software updates
Applications
* Email (SMTP, IMAP4, POP3), MMS, SMS, unified editor
* Viewing of email attachments – .doc, .xls, .ppt, .pdf
* Data: Calendar, Contacts, To-do, Notes, E-mail
* Java™ MIDP 2.0
* Flash Lite 3.0
* Ovi Maps 3.0
* Nokia Ovi Player
Personal Information Management (PIM)
* Detailed contact information
* Calendar
* To-do list
* Notes
* Recorder
* Calculator
* Clock
* Converter
Communications
Email and messaging
* Easy-to-use email client with attachment support for images, videos, music, and documents
* Supported for SMTP, IMAP4, POP3, MMS, SMS. Unified MMS/SMS editor
* Support for the web-based Ovi Mail service
* Mail for Exchange
Call management
* Contacts: advanced contacts database with support for multiple phone and e-mail details per entry and thumbnail pictures
* Speed dialling, voice dialling (speaker independent) and voice commands
* Logs of dialled, received and missed calls
* Conference calling
* Integrated hands-free speakers
Sharing And Internet
Browsing and internet
* Supported markup languages: HTML, XHTML, WML
* Supported protocols: HTTP, WAP, JavaScript
* TCP/IP support
* OSS browser
* Nokia Mobile Search
Navigation
GPS and navigation
* Integrated GPS, A-GPS receivers
* Nokia Maps 3.0
* Nokia Maps loader application via PC
Photography
Camera
* 2 megapixel camera
* Still image formats: JPEG
* CMOS sensor
* Up to 3 x digital zoom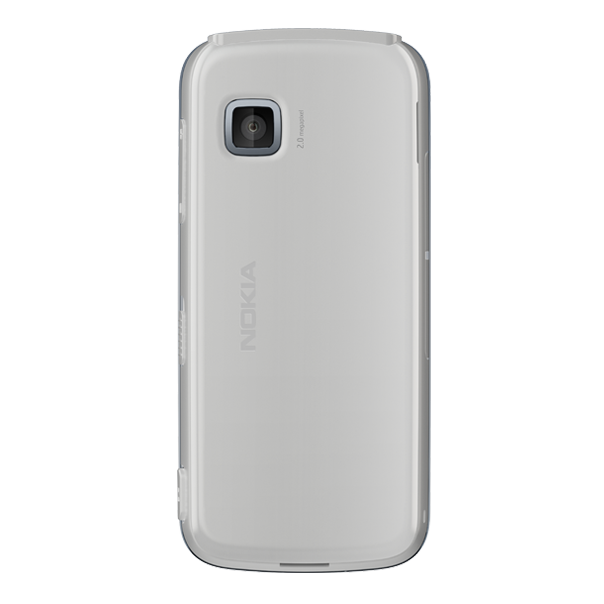 Image capture
* White balance modes: automatic, sunny, cloudy, incandescent, fluorescent
* Center weighted auto exposure; exposure compensation: +2 ~ -2EV at 0.5 step
* Colour tone modes: normal, sepia, black & white, vivid, negative
* Dedicated camera key
* Landscape (horizontal) orientation
* Photo editor on device
Other
* Up to 16 GB of expandable memory
* High-Speed USB 2.0 connectivity
Video
Video camera
* Main camera
2 megapixel
Video recording at up to 640 x 480 pixels and up to 30 fps (TV high quality), up to 640 x 352 pixels and up to 30 fps (widescreen quality), up to 320 x 240 pixels and up to 30 fps/15 fps (email high/normal quality), up to 176 x 144 and up to 15 fps (sharing quality)
Up to 4 x digital video zoom
Video codes  & formats
* Video recording file formats: .mp4, .3gp
* Up to 4 x digital video zoom
Video sharing and playback
* Enhanced video center: central hub for video experiences
* Access to last-played video and easy resume
* My videos: collection of stored videos
* Access to Internet Videos, compatible with RSS feeds, and video podcasts, with direct wireless updates and downloads
* Video directory to discover new Internet Videos
* Support for download, streaming, and progressive download
* Support for Flash video
Music And Audio
Music features
* Comes with Music
* Nokia Ovi Player
* Dedicated music keys
* Quick access to Nokia Music Store
* Music codes: MP3, MP4, AAC, eAAC+, WMA
* DRM support WM DRM, OMA DRM 2.0/1.0
* FM radio
Radio
* FM radio
Gaming
Gaming
* Included games :
Price
All these features can be owned  just by spending Rs. 9500 (approximately)
(Visited 69 times, 1 visits today)