Overview
Kawasaki has marketed the Ninja 250R since 1986 as an entry-level sport motorcycle intended for use on paved roads. The bike is marketed in the US as the Ninja 250R, as the ZX250 in the UK, and as the GPX250 elsewhere. Bajaj India has launched the much awaited Kawasaki Ninja 250R in Indian market.
But it is not going to compare with other R15, Karizma ZMR due to price tag for Ninja is mind boggling 2.69 L (Ex- showroom India).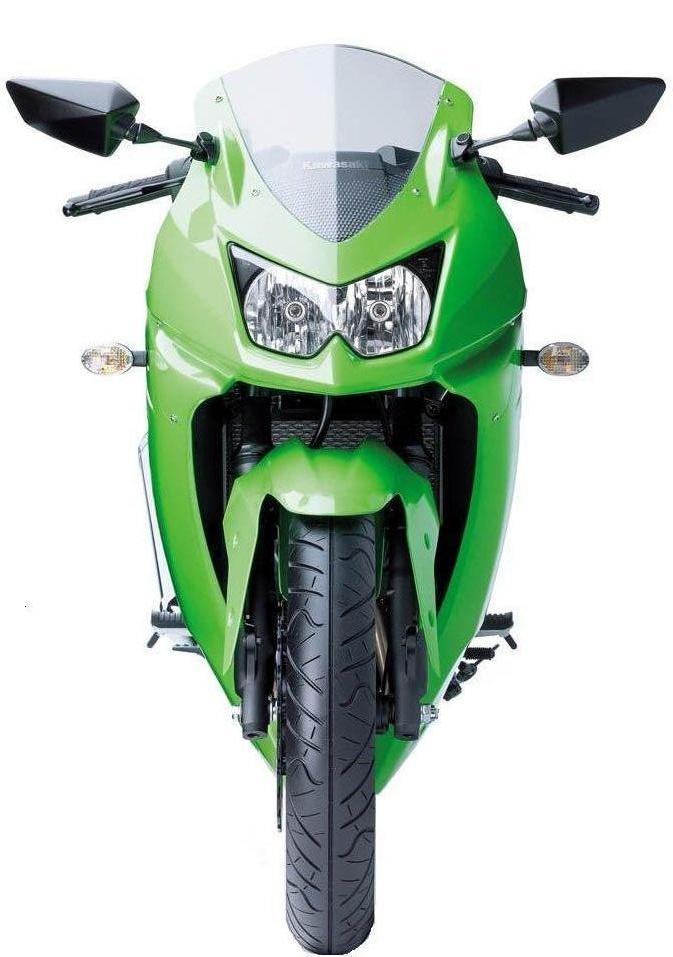 Performance Figures Of Kawasaki Ninja 250R:
1) 0-100km/h : 5.75 sec
2) Top speed : 176km/h
3) Fuel economy : 42.5 Kmpl – Claimed By Bajaj India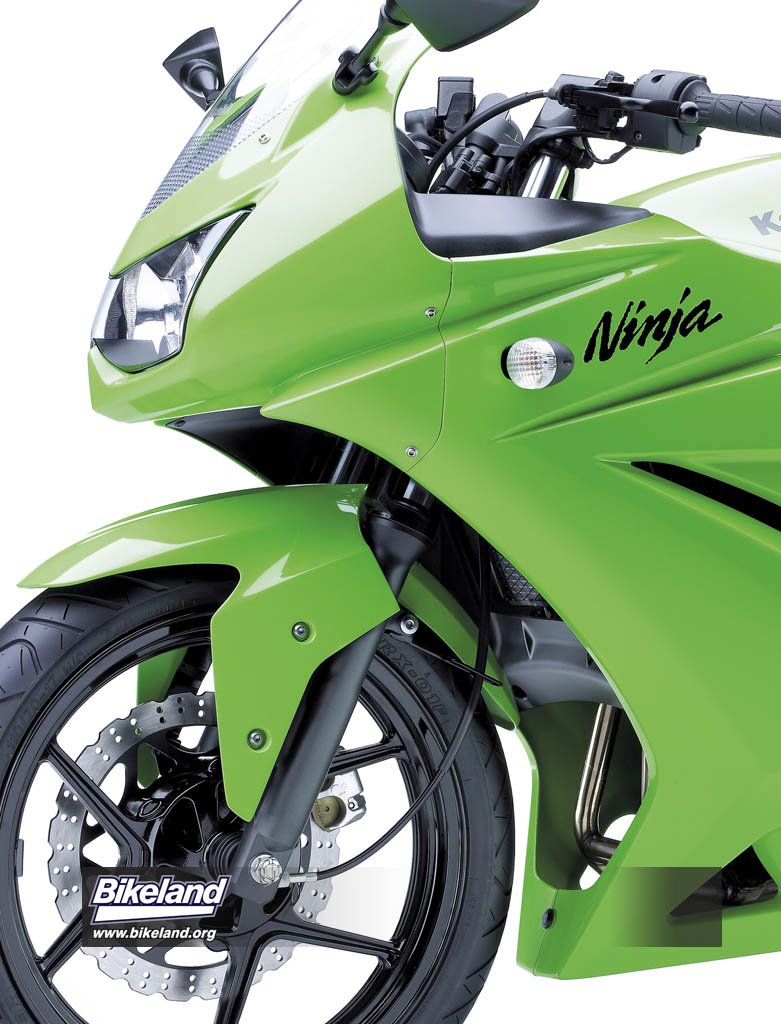 Ninja 250R features refined intake and exhaust ports contribute to good off-idle response and smooth power delivery. Also the valve timing and lift has been designed for strong low- and mid-range torque while direct valve actuation ensures reliable high-rpm operability. And valves with thin heads and stems reduce reciprocating weight with 2-into-1 exhaust system contributes to the Ninja 250R's low- and mid-range torque and smooth, step-free power curve. It meets strict emissions with dual catalyzers; one in the collector pipe and the other in the silencer positioning the first catalyzer as close to the exhaust ports maximizes its efficiency as well.
The fourth-generation model is marketed as the Ninja 250R in all markets. The motorcycle is also referred to by its platform designation, EX250, to which a generational suffix is attached. In the United States, previous generations of the bike (EX250-E/F/G/H) were already being marketed as members of the "Ninja" family of sportbikes, while outside of the U.S. the bike was known variously as the ZZR-250, ZX-250, or as the GPX-250R. One of the earliest generations, the EX250-C, was given the name GPZ-250.
Since the introduction of the model in 1986, the Ninja 250 has been often used as a "starting class" bike in club racing around the world. The AFM in California has been especially involved with 250 Production racing since the bike was released, including the since faded Honda VTR250.
On Road Price – Rs. 2,96,000
* may vary from state to state
VEHICLE SUMMARY
Name : Ninja 250R
Type : Sports
Top Speed : 176kph
Fuel Consumption : City 32.00
Fuel Consumption : Highway 42.00
ENGINE SPECIFICATIONS
Displacement : 249cc
Engine : Four-stroke, Parallel Twin, DOHC
Maximum Power : 32.5 Bhp @ 11000 rpm
Maximum Torque : 22 Nm @ 8200 rpm
Gears : 6 Manual
Clutch : Wet Multi-Disc, Manual
Bore : 62
Stroke : 41.2
No. of Cylinders : 2
Cylinder Configuration: Parallel Twin
Valve Per Cylinder : 4
Engine Block Material: Steel
Chassis Type : Semi-double cradle, high-tensile steel
Cooling Type : Liquid Cooling
Carburetor : No, It Is Fuel Injected
DIMENSIONS
Length : 2085.00 mm
Width : 715.00 mm
Height : 1115.00 mm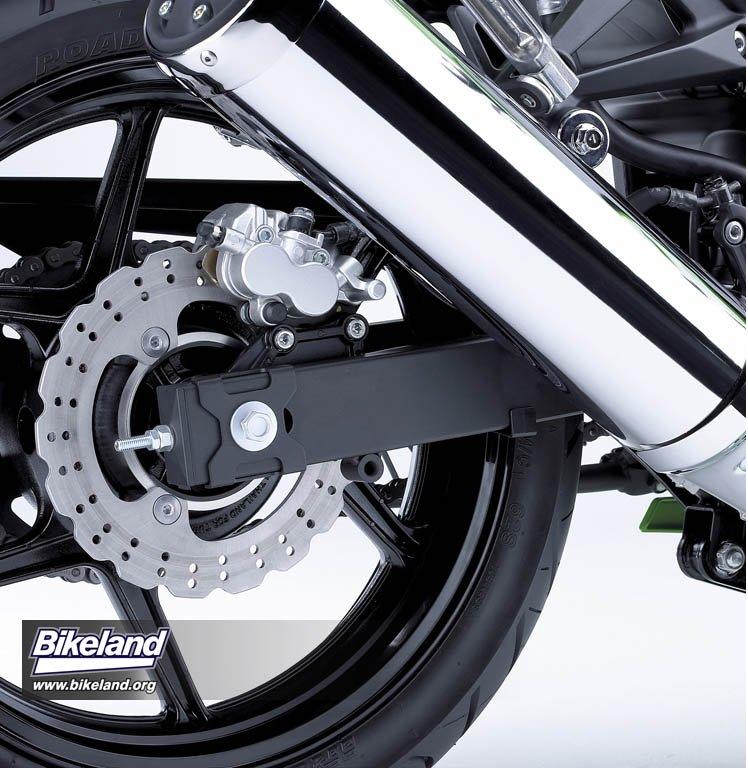 OTHER SPECIFICATIONS
Weight : 172.00 kg
Ground Clearance : 135.00 mm
Fuel Tank : 17.00 ltrs
Wheelbase : 1400.00 mm
Headlamp : Halogen
Wheel Type : Black Mag Alloys
Wheel Size : 110/70 R17-130/70 R17 mm
Tubeless : Yes
Colors : Lime Green, Ebony Black
ACTIVE AND PASSIVE SAFETY
Suspension(Front): 37mm hydraulic telescopic fork
Suspension(Rear) : Uni-Trak with aluminum linkage
Brakes : 290mm Petal Disc
Brakes(Rear) : 220mm Petal Disc
Stand Alarm : Yes
COMFORT AND CONVENIENCE
Fuel Guage : Analogue
Self Start : Yes
Tacho Meter : Analogue
Trip Meter : Analogue-1
Alloys : Yes
Warranty : 12 months
Speedometer : Analogue
Passenger Footrest : Yes
Passenger Backrest : No
Step-up Seat : Yes
Pass-light : Yes
Low Fuel Indicator : Yes
Low Oil Indicator : Yes
Low Battery Indicator: Yes
High Oil Temp. Indicator: Yes
Choked Air Filter Indicator: Yes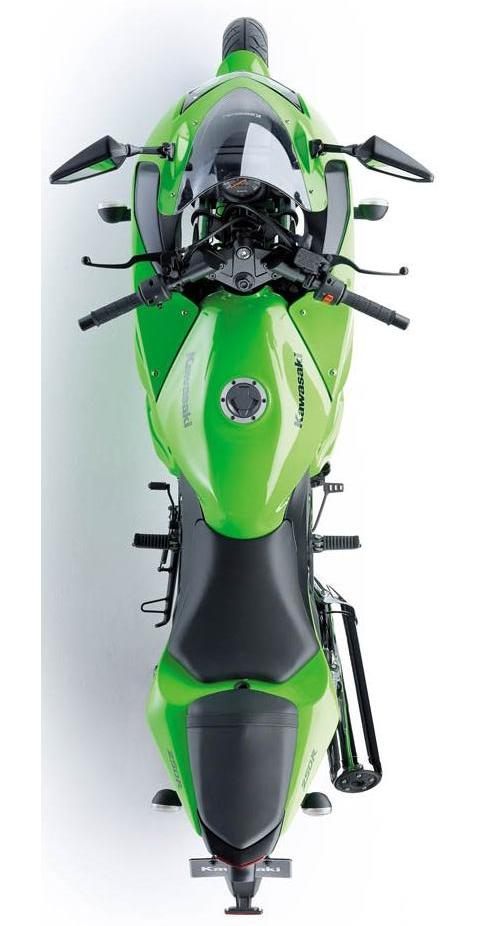 Comparison Data's
Though Ninja is in league of its own and a proper 250cc sports bike – it is not fair to compare it with Karizma ZMR, Pulsar 220 & Yamaha R15. But here we have some data comparison of four best bikes you can buy under 3 lakh rupees.
Data/ New Karizma ZMR/ Bajaj Pulsar 220/ Yamaha R15/ Ninja 250R
Engine/ 4 Stroke/ 4 Stroke/ 4 Stroke/ 4 Stroke
Displacement/ 223cc/ 220cc/ 149.8cc/ 249cc
Max Power/ 17.6 Bhp-7000 rpm/ 21 Bhp-8500 rpm/ 17 Bhp-8500 rpm/ 32.5 Bhp-11000 rpm
Max Torque/ 18.5 Nm-6000 rpm/ 19 Nm-7000 rpm/ 15 Nm-7500 rpm/ 22 Nm-8500 rpm
Gears/ 5 Speed/ 5 Speed/ 6 Speed/ 6 Speed
Cooling Type/ Liquid Cooled/ Air & Oil Cooled/ Liquid Cooled/ Liquid Cooled
Top Speed/ 126 kmph/ 144 kmph/ 135 kmph/ 176 kmph
0-60 kmph/ 3.70 secs/ NA/ 3.20 secs/ 5.75 secs(0-100km)
Brakes/ Discs/ Discs/ Discs/ Discs
Price 91000.00/ 71000.00/ 97000.00/ 269000.00
The engine of Ninja 250R has been tuned to deliver smooth, step-free power with an emphasis on low- and mid-range power for rider-friendly response. The Pistons feature reinforced heads and strengthening in the pin boss area for increased durability and also thick piston (longitudinally) rings help minimize oil consumption. The combustion chamber has been designed and optimized to maximize combustion efficiency and reduce emissions
Shades Available In Ninja 250R
Ninja 250R is available in 2 shades – Lime Green and Ebony Black. Though it is also available in red and blue in other global markets but Bajaj has launched it here in only two shades. It looks best in Lime Green shade for which all kawasakis are known for like we have yellow for a Lamborghini, Red for a Ferrari & Blue for a Yamaha.
Ex-Showroom Price Of Ninja 250R In Other Cities:
New Delhi – 2,69,970.00
Chennai – 2,69,580.00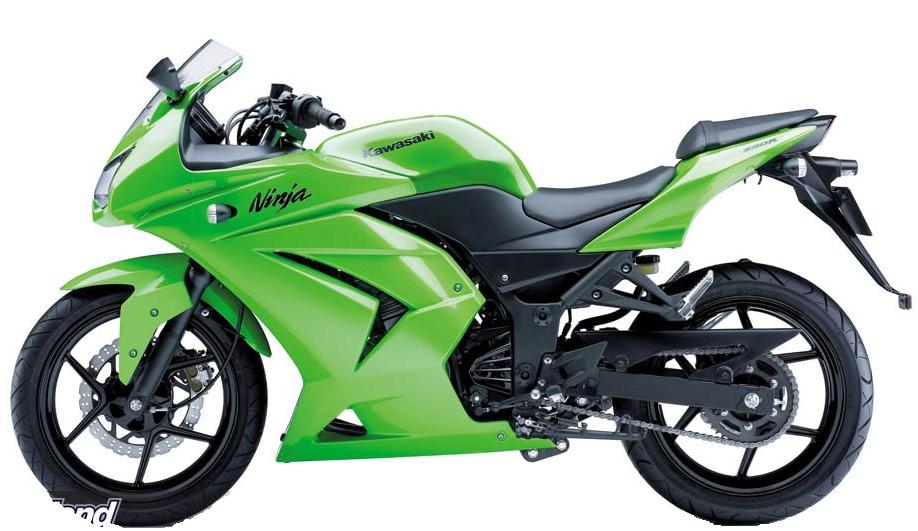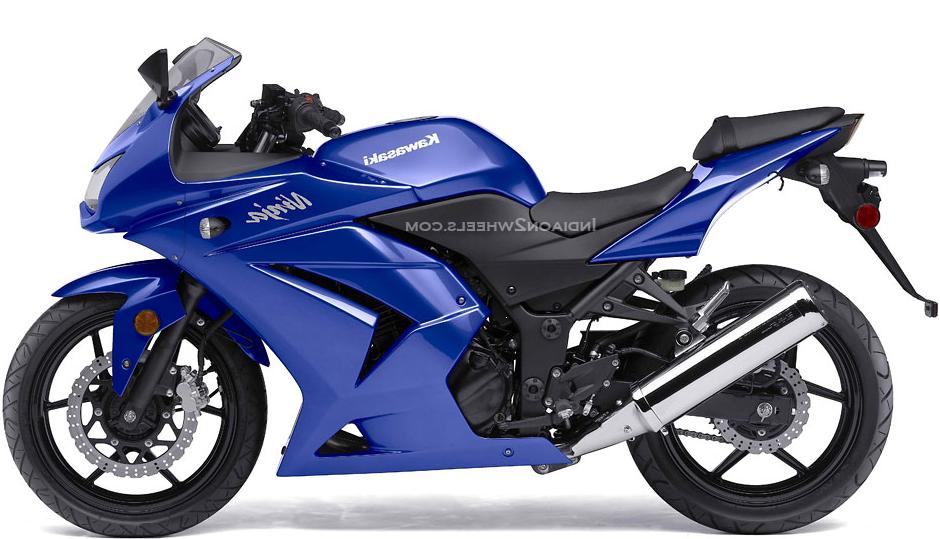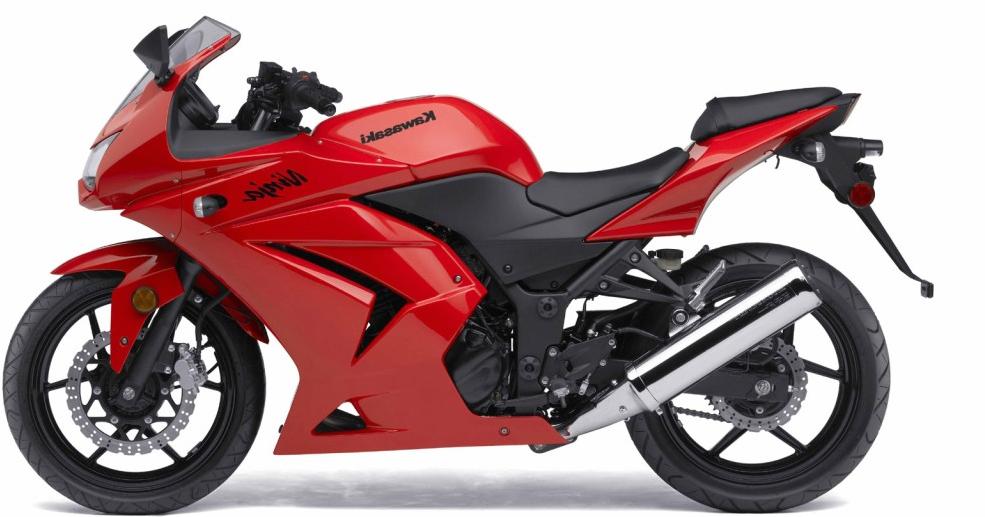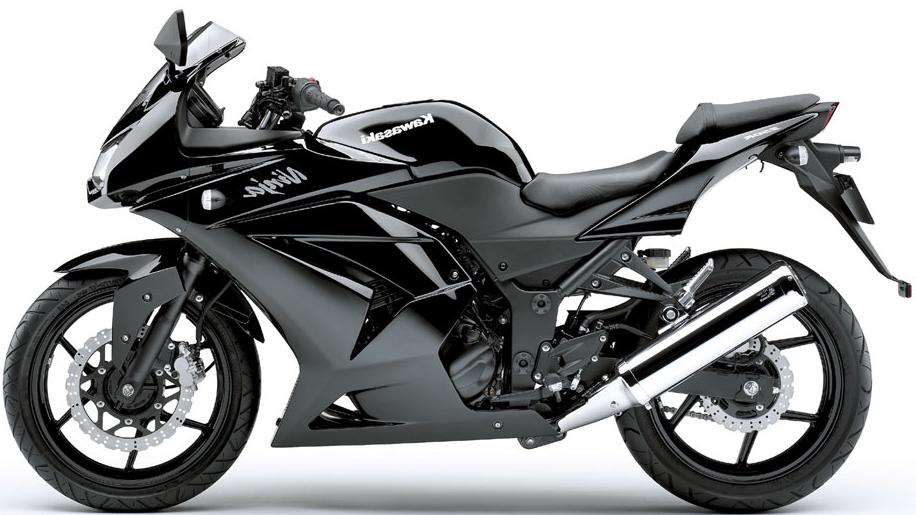 Kawasaki Dealers in Metro Cities – India:
M/s Bajaj Probiking
L1, Ground Floor, Plot No : 3 & 4, Outerwing,Connaught Place, New Delhi – 110001
011-64737111 / 12 / 13 / 14 / 15, delhicp_mgr@bajajprobiking.in,
M/s Bajaj Probiking
Dev Regency, Old No :6, New No : 11, 1st Main Road, Gandhinagar, Adayar, Chennai – 600020
044-64531111, 64501104 / 5 / 6, chn_mgr@bajajprobiking.in,
M/s Bajaj Probiking
32, Chowringhee Road, Kolkata – 700071
033- 64512222, 64512021 / 22 / 23 / 24, kol_mgr@bajajprobiking.in,
M/s Bajaj Probiking
Shop No.13 & 14, BSEL Tech Park Plot No.39/5 & 39/5A, Sector 30A, Vashi, New Mumbai – 400705
022-66741111, 66740253 / 54 / 56, vashi_mgr@bajajprobiking.in,
(Visited 1,239 times, 1 visits today)