Videocon has launched the GSM mobile services today and the service will be available at around 100 cities all over the country.Venugopal Dhoot, the chairman of the Videocon Group launched the service in Chennai with actress Shruti Hassan during the inaugration ceremony.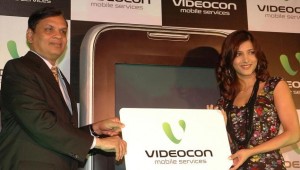 The company has new charge plans and they have one exciting plan which is the concept of "below 1 paisa tariff".And with this plan they are going to attract customers.
Though there are many service providers and also new blooming providers, videocon has stepped into this field with some estimated data that in India only 46% is covered with tele services and there are still many uncovered areas and they have their own stategy in covering all these areas.
Company has arranged around 3400 transreceiver stations for the users across 550 towns in Tamilnadu.Company also has a total of 70,000 towers across India.
Videocon has designed lot of electronic devices and it has also designed mobile devices recently.But now it has entered into a entirely different field.Success and failure depends on the availability of signal with the new service and the tariff plans.
(Visited 78 times, 1 visits today)