Chennai
Airtel has launched 4Mbps unlimited plans all over India (subject to availability) as low as Rs 899 ($20) but there is a catch ie after the initial 6GB download/upload limit the line speed reduces to 256 Kbps but still it is unlimited. The 4 Mbps unlimited plans are available in various price band with the 4Mbps speed limit increasing the 4Mbps cutoff.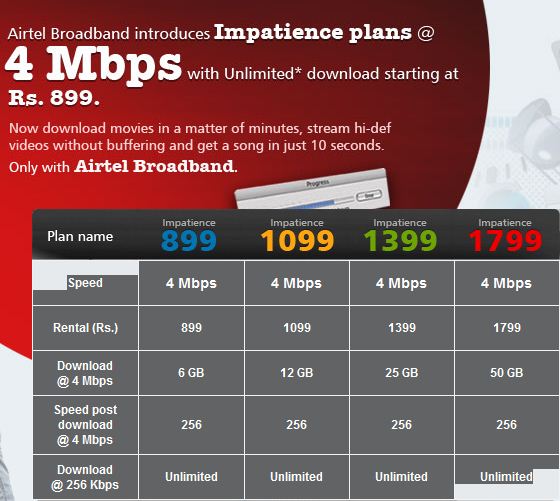 For Rs 1099 the 4 Mbps limit is till 12 GB, and for Rs 1399 it is 25 GB and at Rs 1799 it is 50 GB. After the initial limit ie after 4 Mbps download limit is exceeded, the connection changes to 256 Kbps unlimited.
With this plan Airtel has become the fastest broadband provider in India in the sub Rs 1000 range.This plan is expected to raise the speed bar in India, as other operators also will be expected to increase the speed.
(Visited 359 times, 1 visits today)