Nokia has announced its first ever 10″ netbook PC to be available for sale by end of September. The Nokia netbook will run on an Intel Atom processor and surprisingly will have Windows 7 as its OS. The device build is with Premium materials and has inbuilt A-GPS, 3G hot swappable Sim Slot (You can use your 3G mobile Sim for Both internet access and Calls). The Netbook is supposed to run for 12 hours on Battery. The Booklet 3G will also standard features like Bluetooth,Wi-Fi and HD output.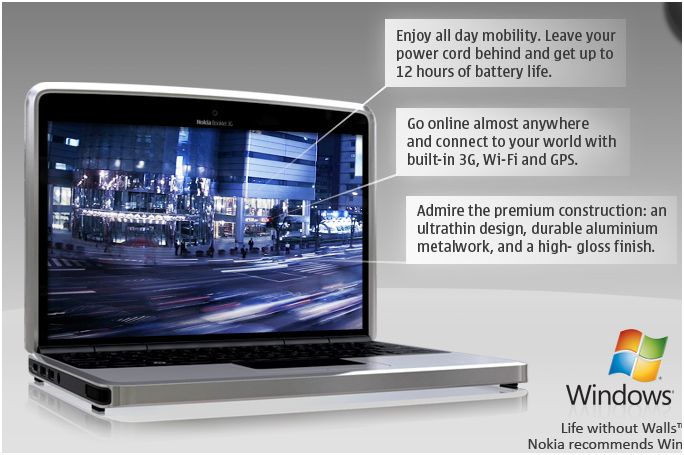 The resolution supported is also expected to be better than the current generation of Netbooks. Nokia expects its extensive retail network in Europe and Asia will help it sell more Netbooks than its competitors. It is expected that the Boolet 3G will retail at a minimum of 400$. The expected sale date might coincide with official launch date of Windows 7.
Below is the Nokia Booklet 3G Video

Review and  more techincal details when available.
(Visited 85 times, 1 visits today)