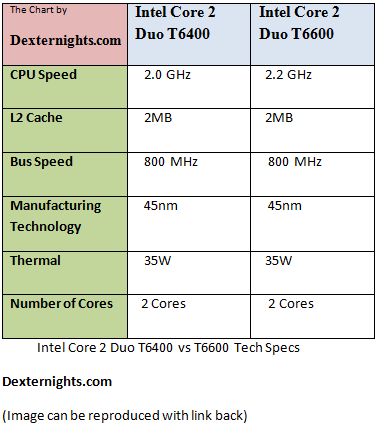 From the Festive Season of 2008, the Intel Core 2 T6400 has been the most popular among all the laptops sold, almost all the models had this processor (for mid range). Well Now Intel has launched a upgrade for the Intel Core 2 Duo T6400 processor, with a new Intel Core 2 Duo T6600.
Unlike the last upgrade say from the T5800 to T6400, this upgrade isnt major. Both T6400 and T6600 are almost the same except the Clock speed and that too a difference of only 0.2GHz. The T6400 is clocked at 2.0GHz and the T6600 runs at 2.2GH. Other than this difference everything else is the same.
So if you have a choice between two laptops with T6400 and T6600 and the cost of the newer processor is higher, don't bother to pay the extra buck, take the one with T6400.(considering you are in Mid-Range Budget)
Both models support Intel 64 technology, package type is Micro-FCPGA.
For your satisfaction here are the Technical Specs
T6400 – CPU Speed – 2.0 GHz , Bus speed – 800 MHz , 2.0 MB L2 Cache , 35 w , 45nm technology
T6600 – CPU Speed – 2.2 GHz , Bus speed – 800 MHz , 2.0 MB L2 Cache , 35 w , 45nm technology
Now as per CPU / Processor Bencmark of the T5800, T6400 and T6600 the following are the results.
Intel Core 2 Duo T5800 –   1099
Intel Core 2 Duo T6400 –  1315
Intel Core 2 Duo T6600 –  1533
Intel Core 2 Duo T9550 –  1857
Intel Core 2 Duo T9600 –  1923
(Visited 497 times, 2 visits today)