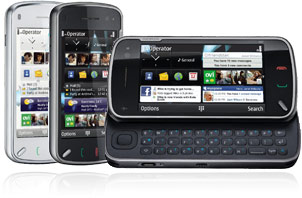 Finally the much awaited Nokia's high end Full Touch Screen Nokia N97 is out. It will be available in most of the stores in a week and expected to be priced at Rs 32000 -34000 in India. Around 380 UK Pounds, same will be available in US for 670-700 USD.  The phone has been much talked about for almost a year.The phone itself doesnt offer anything new except the full touch screen and QWERTY keyboard, a marriage between its Entertainment heavy weights like N96 and E series beauties. Actually N97 reminds me of some of the HTC slider phones, but they weren't this good in features.
If you are someone expecting a slim phone then it isnt the phone for you, it is slightly thinner than the N96 or N95 8GB but still is 15.6mm thick  (18mm at the camera location). Lets get to comparing the N97 with some other popular phones.
The phone comes in two colors White and Black and the white definitely looks better. It definitely blurs the line between the mini laptops and Mobile phones, in terms of features it is better than any mini laptop.
Though most of the media ignorantly writes that main disadvantage of Nokia N97 is that it doesnt have a App Store like Iphone, the truth is the opposite. Most people have been buying Nokia N series and E series because of the availability of so many softwares and most of them being free. The symbian OS is the operating system with more softwares than Iphone OS or Windows Mobile or Google's Android.
The Coolness factor –  Looks and Dimensions
Nokia N97 – Dimensions – Length x Width x thickness
Here are the dimensions of the popular Models
Nokia N97 –  117.2 x 55.3 x 15.9  (18.25)  mm
Nokia N86 – 103.4 x 51.4 x 16.5 mm
Nokia N96 – 103 x 55 x 20 mm
Nokia N95 8GB – 99 x 53 x 21 mm
Nokia E71 – 114 x 57 x 10 mm
Apple Iphone 3G S – 115.5 x 62.1 x 12.3 mm
Interestingly the Nokia N97's dimensions are not far off from Apple iphone 3G S , it is 3 mm thicker than the iphone but has powerful features and Full QWERTY keyboard to balance that.
Pictures of Nokia N97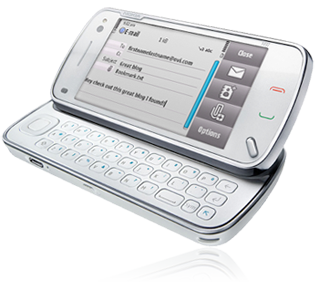 Form:

Side-slide with tilting screen

Volume:

88 cc

Dimensions:

117.2 x 55.3 x 15.9 mm (18.25 mm at thickest point)

Weight (with battery):

150 g

Additional size and shape information: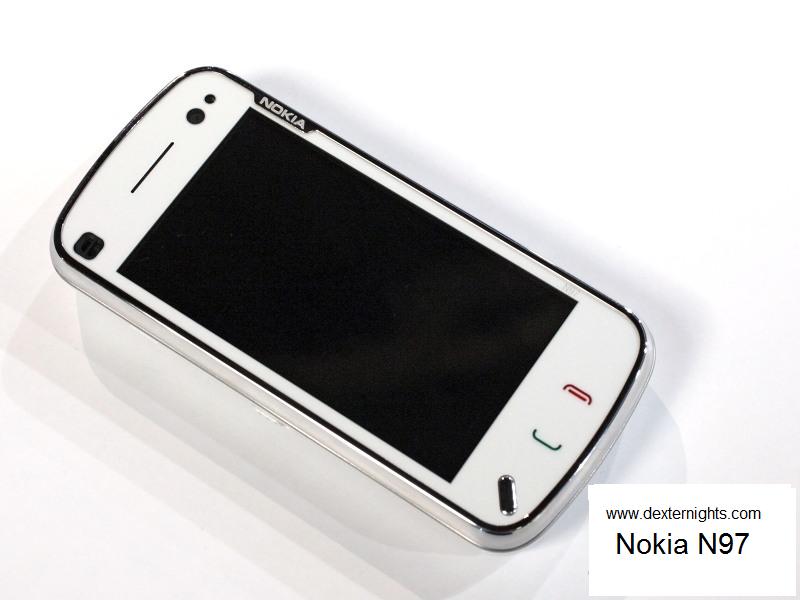 Keys and Input Method
Full slide out keyboard

Cover keys (S60 keys, Menu key, Send/End keys)

Touch screen

4-way navigation key with centre select

Dedicated camera and volume keys
Memory
MicroSD memory card slot, hot swappable, up to 16 GB

Internal memory: 32 GB
Nokia N97 - Full Keyboard
Connectivity
Bluetooth version 2.0 with Enhanced Data Rate

TV out

Support for local and remote SyncML synchronisation

High-Speed USB 2.0 (micro USB connector)

3.5 mm AV connector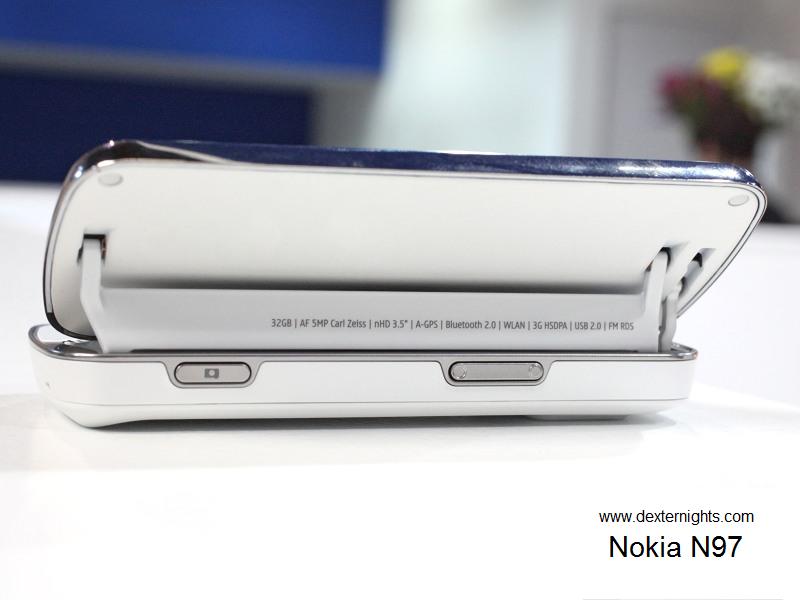 Display and User Interface
Size: 3.5″

Resolution: 640 x 360 pixels

Up to 16.7 million colours

Resistive touch screen with separate touch foil and touch feedback

Brightness control

Orientation sensor

Proximity sensor

Ambient light detector
Power Management
BP-4L 1500 mAh Li-Ion battery

Talk time (maximum):

GSM up to 570 min

WCDMA up to 360 min

Standby time (maximum):

GSM up to 430 h

WCDMA up to 400 h

Video playback time (maximum): VGA 30fps

QCIF 15fps up to 5.5 h

Video recording time (maximum): up to 1 h per clip

Music playback time (maximum): up to 40 h
Operating Frequency
(RM-505, Global) WCDMA 900/1900/2100, Quad band GSM 850/900/1800/1900, HSDPA, GPRS, A-GPS, WLAN

(RM-506, PR China) E-GSM 850/900/1800/1900, A-GPS

(RM-507, Americas) WCDMA 850/1900/2100, Quad band GSM 850/900/1800/1900, A-GPS, WLAN

Automatic switching between GSM bands

Flight mode
Data Network
GPRS class A, multislot class 32

WCDMA maximum speed up to 3.6 Mbps

HSDPA maximum speed up to 3.6 Mbps

WLAN IEEE 802.11b/g maximum speed up to 11Mbps/54Mbps
Software Platform and User Interface
S60 5th edition

Active standby

Voice commands

FOTA (Firmware update Over The Air)

Automatic UI rotation

Software updates
Applications
E-mail (SMTP, IMAP4, POP3), MMS, SMS, unified editor

Viewing of email attachments – .doc, .xls, .ppt, .pdf

Mail for Exchange

Data: Calendar, Contacts, To-do, Notes, E-mail

PC Applications: Microsoft Outlook, Outlook Express, Lotus Organizer, Lotus Notes
Email & Messaging
Easy-to-use email client with attachment support for images, videos, music and documents

Support for SMTP, IMAP4, POP3, MMS, SMS. Unified SMS/MMS editor

Email web widget

Nokia Email

Mail for Exchange*
Other
Personal Information Management (PIM)

Search content in device and search on the Internet

Quickoffice document viewers (Quickword, Quickpoint, Quicksheet)

Adobe PDF viewer

Customization through themes, ringtones, applications

Portrait and landscape orientation modes; with transitions via dual slide operation, or auto-rotate controlled by accelerometer

Settings Wizard for easy configuration

Data transfer application for transfer of PIM information from other compatible Nokia devices

Nokia Software Updater for firmware upgrades with the user's PC, with user data preservation

FOTA (Firmware over the Air Software Updater) for firmware updates directly to the device over WLAN or 3G
(Visited 174 times, 1 visits today)