Nokia recently updated its E51 candybar business phone with a new E52,  a S60 3.2.3 Edition running on the Symbian 9.3 OS core. The phone is loaded with all the top of line features of a business phone but with the numeric keyboard. It has a whopping 8 hour talktime, keeping in line with Nokia's Business Phones of E Series. It has 3.2 Mega Pixel camera, A-GPS navigation (assisted GPS) , VOIP , Nokia mini Maps, Full internet Browser , Flash Lite and much more. Not to mention this is a 3G phone.
As usual first
The Looks and Coolness Factor
Not exactly a visual delight but its very rare to find a candybar phone without full keyboard in Business phones, and thats what E52 do. Nokia has E71 and E63 for Full Keyboard and Slider design in Business Class phones, and E52 is their Candybar/ Monoblock phone. One of main feautures of Nokia E51 was its stunning thin body and E52 has taken that to another level all together. You can call it one of the thinnest phones around even thinner than the original E51.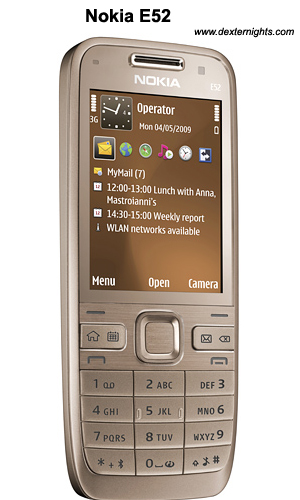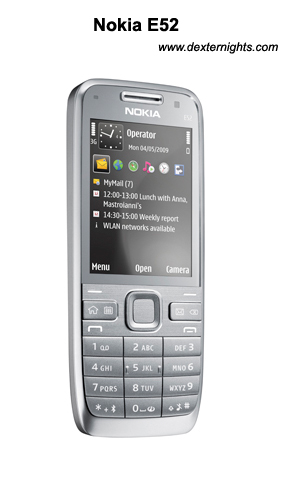 We are comparing E52 with other phones of candy bar nature to give you a better picture how this feels. For example E52 is exactly half the thinckness of N73 which is 19 mm thick.
Dimensions  – Length (Height) x Width x Thickness (all in Millimetres mm)
Comparison of E51,E52,N73,N78 and E71 in terms of Dimensions and Thickness.
Nokia E51     –  114  x 46 x 12  mm
Nokia  E52 – 116 x 49 x 9.9 mm
Nokia   N78 –  113  x 49 x 15.1 mm
Nokia  E71   –  114 x 57 x10 mm
Nokia N73 –   110 x 49 x 19 mm
Definitely the E52 and E71 beat the competition in terms of the thin factor.
Weight  (g – grams): (comparison of E51 , E52 , N73 , N78 , E71 in terms of Weight)
E51 – 100
E52 – 98 g
N73- 116 g
N78- 101.8 g
E71 – 128 g
Nokia E52 is pretty light in terms of weight and it will be surely considered by ladies.
It is available in two colours  Metal Grey aluminium and Golden aluminium.
Features
The Nokia E52 boasts a 2.4″ TFT display at a resolution of 240 x 320 pixels (QVGA).
Colours : 16 million colours
Automatic display orientation (landscape/portrait)
Operating frequency
Quad-band GSM 850/900/1800/1900
Communication and Connectivity
GPRS class A, multislot class 32

EGSM class A, multislot class 32

WCDMA 900/2100 (Nokia E52-1)

WCDMA 850/2100 (Nokia E52-2)

HSDPA maximum speed: up to 10.2 Mbps

HSUPA maximum speed: up to 2 Mbps

WLAN 802.11 b/g

TCP/IP support

Capability to serve as data modem

Bluetooth 2.0 EDR, A2DP
Messaging and Email
SMS, MMS, IMAP4 , Nokia Messaging, Microsoft ActiveSync, POP3 and SMTP
Web browsing
Supported markup languages: HTML, XHTML, MP, WML, CSS
Supported protocols: HTTP, WAP
TCP/IP support
Nokia MiniMap browser
Nokia Mobile Search (in-device and Internet)
GPS and navigation
A-GPS with compass
Nokia Maps application
Camera

3.2 megapixel Full focus camera with LED flash
Up to 4x digital zoom
Video recording in MP4 and 3gpp format.
Ports and Connectors
Mini USB
Standard 3.5mm Audio Jack
Audio and Video Features
Music Player with Mp3,AAC,eAAC+ support.
3gpp and MP4 video playback.
Divx ready.
Video Calling.
FM radio 87.5-108 MHz with RDS support.
Other Applications
Office Suite
PIM
Java
Flash Lite
Nokia Full HTML Browser with mini Map
S60 Edition 3.2.3
Symbian OS 9.3
Package Contents
Nokia Battery BP-4L (1500 mAh)
Nokia Charger AC-10
Nokia Charger Adapter CA-146C
Nokia Stereo headset HS-48
Nokia Connectivity Cable (CA-101) supports charging
Nokia 1 GB microSD card (MU-22) inside device
PCSuite (v 7.1) in microSD card
(Visited 219 times, 1 visits today)