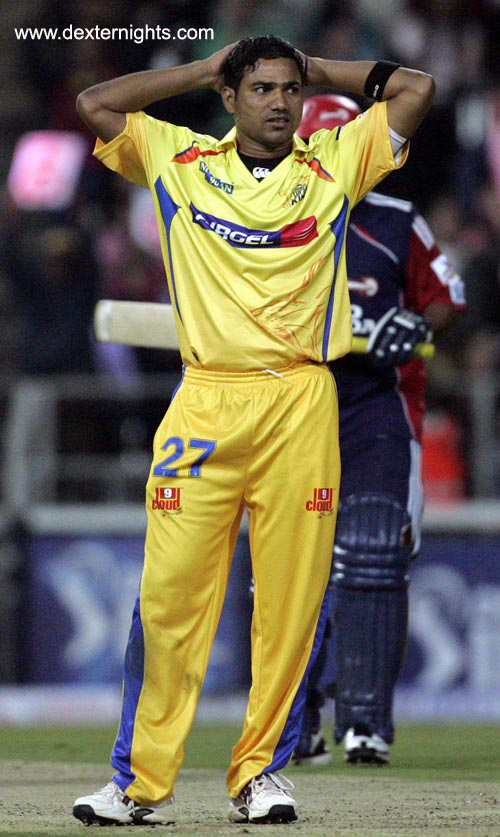 Full name : Shadab Bashir Jakati
Born November 27, 1980, Vasco da Gama, Goa
Teams :  Chennai Super Kings, Goa
Left-hand batsman and Slow left-arm orthodox
Shadab Jakati – A little known left arm orthodox spinner from Vasco Da gama , Goa. He is 29 year who has not been exciting or hugely successfully till now. The reason could be simply because his state doesnt play in the elite group of Indian Domestic league. The plate group of Indian domestic league is very weak and very few get recognition.
But Jakati had others plans against the Delhi Daredevils on Saturday Clean bowling Sri Lankan T20 Captain Dilshan with a once in a lifetime delivery, then removing Dangerous David Warner and repeated his so called once in a lifetime delivery again to bowl Amit Mishra in his spells last ball.
Jakati finished with figures of 4/24 in his spell of four overs. He attributed his success to his Team Chennai (and Team India) bowling coach Venkatesh Prasad who has been working on jakati from last years IPL. Jakati showed very good vaiations of Pace and Spin and had very good control over his line and length. Also he didnt not wilt under prssure.Hopefully the likes of Jakati,Ohja pushes harbajan to do more for his spot in the team.
Batting and fielding averages of Shadab Jakati (Source : Cricinfo ) 

| | Mat | Inns | NO | Runs | HS | Ave | BF | SR | 100 | 50 | 4s | 6s | Ct | St |
| --- | --- | --- | --- | --- | --- | --- | --- | --- | --- | --- | --- | --- | --- | --- |
| First-class | 41 | 68 | 4 | 1290 | 100* | 20.15 |   |   | 1 | 6 |   |   | 27 | 0 |
| List A | 41 | 38 | 5 | 700 | 77 | 21.21 |   |   | 0 | 4 |   |   | 13 | 0 |
| Twenty20 | 7 | 6 | 0 | 100 | 43 | 16.66 | 72 | 138.88 | 0 | 0 | 12 | 1 | 2 | 0 |
Bowling averages

| | Mat | Inns | Balls | Runs | Wkts | BBI | BBM | Ave | Econ | SR | 4w | 5w | 10 |
| --- | --- | --- | --- | --- | --- | --- | --- | --- | --- | --- | --- | --- | --- |
| First-class | 41 |   | 8143 | 3748 | 103 | 6/42 |   | 36.38 | 2.76 | 79.0 |   | 6 | 1 |
| List A | 41 |   | 1833 | 1455 | 49 | 5/61 | 5/61 | 29.69 | 4.76 | 37.4 | 1 | 1 | 0 |
| Twenty20 | 7 | 6 | 144 | 140 | 10 | 4/24 | 4/24 | 14.00 | 5.83 | 14.4 | 1 | 0 | 0 |
Chennai vs Delhi Match Video Highlights links : http://www.cricket66.com/?p=397
Watch Jakati take 4/24 against delhi here.The highlights of Match 26 between Chennai Super Kings vs Delhi Daredevils
http://www.cricket66.com/?p=397
(Visited 275 times, 1 visits today)