Subscribe to TCS News – TATA Consultancy Services Insider News by Email   (only TCS related posts from this blog will be sent)
TCS is trying desperately to damage the name it had with associates few years back. Now the HR has totally different role in this organisation, how to reduce cost at any cost.
Earlier TCS had PIP – Process Improvement process which were suggestions given by employees to improve company in any area. But now after the TCS numbers started going down, the company has come up with one more way of firing employees – PIP (Performance Improvement Plan). Though TCS claims this process is for improving and motivating employee the truth is this is one more tool in blackmailing employees into submission and firing them when they need to reduce the employee count of highly paid staff.
A PIP is sent to the supervisor of the employee who has a lower score in annual performance evaluation and bar for lower score has been increased recently which will cover almost 20% of employees. Since TCS has curve fitting model for giving performance rating ,15-20% of its 1,20,000 employees will get band D or Rating 2.  Now they have introduced PIP to send out this employees out. The funny part is this whole performance evaluation never reflects actual performance of individual rather it  depends on various factors as I had mentioned in my previous post here.
Now what happens if your supervisor gets a PIP for you ? . Either he can save you by giving you a rating(this is PIP rating) of  2.5 or above (for 5) or he can give you a lesser feedback and get you fired. As if the PL's and PM's in TCS doesnt have enough say in your salary now one more way he can make you a slave.
So how does this process work and what is the criteria for receieving a PIP (ie ur supervisor getting one for you).  Refer the below table for verifying the criteria for PIP this year (and past year)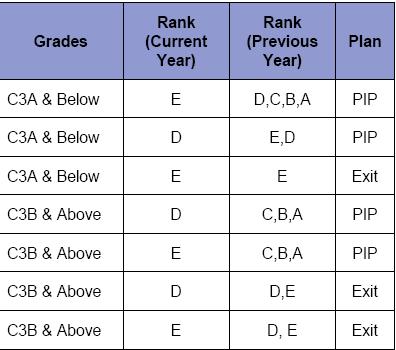 According to this chart released by TCS HR anyone at C3B level and above will be fired if they get continous 2 rating or Band D as I ahd earlier mentioned in the previous post. For employees Below AST ir ITA or ASE, they will be fired if they get a Band E or Rating 1  twice. In all other scenarios they will get a PIP and your PL / PM has to save you.
So do pass the word to other TCSers and also cautions the others interested in TCS about the same.
(Visited 3,957 times, 1 visits today)