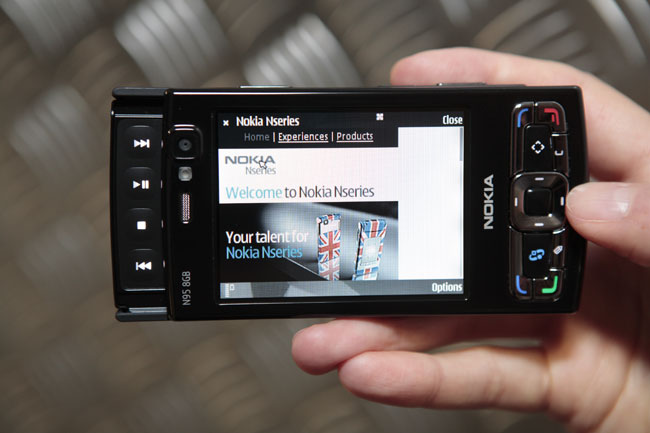 I don wanna explain the specs.. as u all know what they are still a basic intro
– 5 mp camera with xenon flash , carl zeiss lens and auto focus
– 8 GB memory
– GPS
– Real player
– Voip
– slide both ways
– 2.8″ screen
Now again specs really doesn give u wov, even i was very much skeptical about some features in the N95 spec, mainly GPS and the video capability.
Now its time u tell me if its good.. the GPS took a few mins in my case 2 mins outside and 4 mins inside my room to pick up atleast 7 different satellites. Location is pointed to within 30 mts with 4 satellite feeds and much precise with 5 satellites. I was quite impressed by the location pointing exactly over my room, neat for a mobile GPS(or Is it).
On my way back from Tuttle Mall in the bus I tested the navigation with Nokia maps.. was really stunned, the road map was so good even it gave me guess of my enire route(or rather COTA route?) the coverage was very good and it tracked with every second.
Back to my hotel again searched for nearby restaurants.. it gave a list of nearby restaurants with distance as sorting option, tht is wonderful. Even found groceries and it has some options to find almost all public places.Add to it the contact information, website information.. and all. This feauture is even better with Google Maps. I will try with Tom Tom and Garmin ..(I downloaded both these applications also) and update on this.
Nokia gave two more applications free of cost first is Fring, Fring allows you to make VOIP calls with Skype,GTalk,Yahoo,MSN,AOL and etc apart from normal chatting. Setup was very easy.
But surprise came from Gizmowith all the above features, fring gave me 20$ worth free minutes and a new VOIP number (a US number)..thts what I call real deal. I was able to make calls using my WLAN in next moment i nstalled and signed up with fring. And Incoming is free with fring.
Application support fro S60 v3 has improved much better now compared to the time when N73 and N93 first came out. I struggled to get some good apps on these devices. Now almost all major Symbian developer is working on v3. Now my next search is media.
I was searching for a good player apart from the Nokia MP4/MP3 and Real player I already have as default apps.And soon found a divx player from the divx corporation. Im saved from all the converting business i need to undergo for loading a movie, and it playes mpeg,avi and divx in full resolution and there is a option to offset voice/video lag.
(Visited 50 times, 1 visits today)